Zoe Kwasnicki
Staff Writer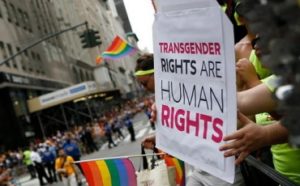 On May 13, 2016, the former Obama administration released a nationwide letter on gender identity providing the following definition of gender, "Gender identity refers to an individual's internal sense of gender. A person's gender identity may be different from or the same as the person's sex assigned at birth." Definitions of the terms "sex assigned at birth", "transgender", "transgender male", "transgender female", and "gender transition" were also provided.
This action nationally widened the scope of transgender rights by not only informing the public of the transgender community, but supporting and enforcing their ability to live their lives as their rightful gender. This also included protection against medical discrimination.
The response was mixed, to say the least.
Some praised the legislation, saying it was about time. Others called it "unnatural" and an attack on "the religious liberty, freedom of conscience, and independent medical judgment of health care professionals."
One of the latter was Roger Severino who worked at the Heritage Foundation, a conservative public policy think tank, and wrote for the Daily Signal, a conjoined conservative news outlet with the Heritage Foundation, and now acts as the Director for Civil Rights at the Department of Health and Human Services.
So it is not surprising that a recently leaked memo attacking transgender rights circulated under the guidance of Severino. A stark upheaval of the Obama Administration's definition, the memo proposes defining gender as "a person's status as male or female based on immutable biological traits identifiable by or before birth…The sex listed on a person's birth certificate, as originally issued, shall constitute definitive proof of a person's sex unless rebutted by reliable genetic evidence."
While the proposal has not yet passed on the federal level, SLA faculty and students are standing by the trans community with both School Counselor Zoe Siswick and Queer-Straight Alliance Advisor Joshua Block calling the proposal "hateful and unnecessary and not a reliable definition" and "a sad attempt to try and deny how the world really is and how people really are."
Ms. Siswick does have a somewhat optimistic view on the situation. "I think the great thing is that on the most surface level in terms of here in our building, we will continue to treat our students the way we treat our students right now."
However, she also admits the mental health of students will definitely be affected: "if someone's telling you that you're not who you know you are – that can have real, significant impact on your socio-emotional and also physical health."
Similar concerns were voiced by Lily Rivera, student leader of the Q.S.A., and Mic Lieberman-Burak, a genderqueer student, who are worried for the health of trans students in SLA who may be unable to receive hormone medication due to discrimination by their physician and/or healthcare provider stating, "For AFAB [Assigned Female At Birth] and AMAB [Assigned Male At Birth] trans people who are far into the process of medically transitioning, this proposed definition does not apply on a physical level. This needs to be acknowledged by medical professionals, in order to provide the most effective healthcare."
To combat these potential dangers, Mr. Block says the QSA plans to continue to provide educational workshops for teachers and students as well as connecting with other QSAs and LGTBQ+ groups across Philadelphia as well as providing support to those within SLA.
Despite the reassurance of teachers, Rivera expressed concern about what the policy will also mean inside SLA because while SLA may remain a welcoming environment – that does not mean the outside world will.
"SLA students will be angry, and afraid; just as they were when Trump was first elected into office," she said. "It will definitely change the environment of SLA, for good or for worse, I don't know yet, and I really don't hope to get that answer any time soon."