Staff Writer Claudia Bonitatibus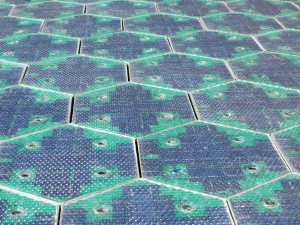 Scientists have recently invented a technology that would allow concrete and asphalt on the roadways to be replaced with solar panels. The solar panels have a tempered glass exterior, which has been particularly designed to withstand the weight of cars and trucks. The main attraction to the proposed solar roadways is that they use the sunlight to create energy and save money as well. If all the roads in the U.S. were replaced with solar panels we would be producing three times the amount of energy we are currently using.
The panels produce clean energy and help fight against pollution and limit our carbon footprints. They actually help pollution because not only do they produce clean energy, but they are made out of recycled materials as well. Whenever a unit breaks or stops functioning it is easy to reinstall, opposed to have to repave an area, which can take months.
Of course there are also many other benefits, one of which is the fact that these panels always stay a couple degrees above freezing. This ensures that instead of the roads freezing over in the winter the panels would melt any snow and ice, making commuting and transportation in general much safer and easier.
Another safety precaution is that the panels have LED lights, which would make driving at night much less dangerous. The LED lights in the road would improve visibility and have been designed to detect when an animal is crossing or if a tree has fallen on the road ahead and warn the driver.
The main deterrent is funding because replacing all of the roads is not something that can happen overnight. If you look at it from a purely financial viewpoint, using solar panels on our roads would not just save money because the sun is a renewable energy source but it would also create more jobs. The manufacturing and installation would provide millions with green tech jobs.
Like all solar panels, the energy production would be less stable during the winter when there is not that much sunlight. However the production of excess energy in the summer would be enough to support us during the winter. Also, something that needs to be taken into consideration is the fact that it will take a lot of money and time to install them, since this is a long-term solution. The benefits of solar panel roads outweigh the disadvantages by far. In the long run, they are worth the time, effort and even the money that it would take to install them.