Kai Bradley Gutierrez de Teran
Background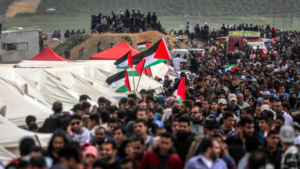 Israel and Palestine have been in conflict since 1948. It is a conflict for land and economic control in the area, using religion as an excuse since Palestine is a Islamic state and Israel is a Jewish one.
The conflict is very controversial, with people calling defenders of Israel Islamophobes and defenders of Palestine anti-semitic. While this may be the case in some situations it tends to be a simplistic way of looking at the conflict in this part of the Middle East.
Israel was a country that was funded after World War II to be a safe haven for Jewish people who survived the persecution in Europe by the Nazis. Ever since it was established they have occupied more and more Palestinian land. During the existence of Israel they have been provided with billions of dollars in support from the US government.
Israel has been accused of human rights violations several times by different human rights organizations, such as Human Rights Watch and Amnesty International, and by the United Nations. It is important to also say that Hamas, a Islamic extremist terrorist group and political party based in Palestine, has also violated human rights.
Human Rights Watch has said "Fifty years after Israel occupied the West Bank and Gaza Strip, it controls these areas through repression, institutionalized discrimination, and systematic abuses of the Palestinian population's rights," and "At least five categories of major violations of international human rights law and humanitarian law characterize the occupation: unlawful killings; forced displacement; abusive detention; the closure of the Gaza Strip and other unjustified restrictions on movement; and the development of settlements, along with the accompanying discriminatory policies that disadvantage Palestinians."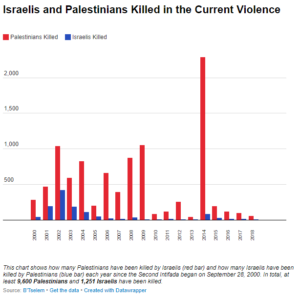 In the last major three Gaza conflicts (2008-09, 2012, 2014), Israel has killed 2,000 Palestinian civilians, many of these killings are considered war crimes as they targeted civilian structures, including hospitals and schools.
On the other hand, between December 1987 and February 2017 Palestinian Armed groups, including Hamas, have killed 1,079 Israeli civilians, committing war crimes as they have specifically targeted civilians.
Since the conflict has begun, Palestine has become extremely unstable as the government does not have full control because of Hamas being in control of the Gaza. A fact that should be made clear is that the majority of Palestinians do not support Hamas's terrorist actions, just as some Israelis do not support the institutionalized terrorism of the State of Israel.
Protests in Gaza
On March 30 of this year and leading up to May 15, the anniversary of Israel's establishment in 1948, protests began in Gaza demanding for the homes of Palestinians to be returned after they have been taken throughout the years by Israeli forces. 70 percent of the 2 million people who live in the Gaza strip are refugees who had their homes taken or fleed the Israeli army.
One of the big motivators of the march is also to protest Trump has announcement about the US embassy is moving from Tel Aviv to Jerusalem, which is highly controversial because Palestinians claim it as their capital and Jerusalem is a holy city for the world's three biggest religions: Judaism, Christianity and Islam.
Since the protests have occurred 113 Palestinians have been killed, including a baby, (a 12 year old) adding up to 15 children, a doctor and an Associated Press reporter, Al Jazeera reports. So far 12,000 Palestinians have been injured, more than a 3,500 from live fire, including 6 Palestinian journalists and 16 paramedics. (For names and photos of almost all killed on both sides in 2018, look at https://israelpalestinetimeline .org/2018deaths/) The list of dead is expected to rise as more die from their wounds. There are no reports of any Israeli injuries, civilian or military.  
The BBC's Middle East Editor, Jeremy Bowen, said that there is shock in Gaza about the killings because although they expected casualties they did not expect so many.
On Monday, May 14, Hamas spokesperson Ashraf al-Qidra said that 50 of those killed were members of his organization. It is not confirmed that they were members of the armed aspect of Hamas.
International Response
Journalist Ilene Prushe wrote in the Haaretz Newspaper, which is based in Israel, "It's simply unacceptable that the same Israel that prides itself on innovation and ingenuity – cannot find a better way to stop thousands of Gazans threatening to overrun the border than to open fire on them with live ammunition." On the topic of the allegations that Hamas is recruiting teenagers she said "Hamas may as well be sending young demonstrators into a firing squad. But does that mean Israel has no choice but to keep pulling the trigger?" She points out that in the US and around the world protests have been suppressed or controlled by the government with non-lethal force such as water cannons.
Regardless of all the criticism Israel is receiving from the world it defends these actions as they say they are defending their border and citizens from a terrorist organization.
A leader of Hamas, Mahmoud al-Zahar, said on April 6, towards the beginning of the protests, "Today we are sending a message that our struggle is without arms and guns, and we will wait and see if the world receives the message, and pressures Israel to stop its crimes against our people and if the world fails to do so, we then will be obliged to use our arms."
Jewish Voice for Peace (JVP) said that "No one should be killed for taking part in a peaceful protest, and Jewish Voice for Peace and our members will not sit quietly while the Israeli military kills Palestinians for demanding their rights."
JVP has said that they will fight for Palestinian rights, and have been, until Israel "Ends its occupation and colonization of all Arab lands occupied in June 1967 and dismantles the Wall; recognizes the fundamental rights of the Arab-Palestinian citizens of Israel to full equality; and respects, protects and promotes the rights of Palestinian refugees to return to their homes and properties as stipulated in UN Resolution 194."
Haidar Eid, a journalist for Al Jazeera who joined the marches, said "We march for three reasons. One, we want UN Resolution 194, which calls for the return of all Palestinian refugees to their lands, to be implemented. Two, we want the genocidal siege imposed on Gaza by apartheid Israel to be lifted. Three, we refuse to accept the decision to move the US embassy to occupied Jerusalem."
Eid says that the protesters come from all parts of Palestinian society and political groups. He said that he "Saw women, children, amputees, young men, and elderly get shot, even though they were not trying to "trespass"."
He said that in Gaza electricity is only available 4 hours a day and 95 percent of the water is undrinkable. He went as far as to call Gaza "The largest open-air concentration camp."
Bernie Sanders, US senator for Vermont and former US presidential candidate, on Monday May 14 tweeted, "Over 50 killed in Gaza today and 2,000 wounded, on top of the 41 killed and more than 9,000 wounded over the past weeks. This is a staggering toll. Hamas violence does not justify Israel firing on unarmed protesters."
Meanwhile the White House has said that Hamas is responsible for the deaths as they have "exploited the situation."
Lt. Col. Jonathan Conricus, head of social media for the IDF and its  international spokesman, acknowledged that the IDF "failed to minimize the number of casualties." He however defended the military's response saying "When the dilemma came to, on one hand, defending the Israeli border and Israeli communities immediately behind the border, or allowing the rioters through and having a lower amount of Palestinian casualties, there's no dilemma."
Conricus also said that on Monday May 14, 14 of those killed were actively involved in carrying out attacks.
Justin Trudeau, the prime minister of Canada, has called for a independent investigation of Israel's response to Palestinian protesters. This was prompted after a Canadian doctor, Dr Tarek Loubani, was shot in Gaza, fully dressed in medical clothing next to several other medics in orange vests approximately 25 meters away from the protesters. Loubani said "It's very hard to believe I wasn't specifically targeted, considering that there was a lull in activity, considering the fact that I was so clearly marked." The doctor who rescued him, Musa Abuhassanin, was killed afterwards by Israeli fire meanwhile he was attempting to reach another patient.
Trudeau joins Theresa May, the prime minister of Britain, and the United Nations secretary general, António Guterres, in their call for an independent investigation.
On May 15, hundreds of marches in solidarity with the Palestinians in Gaza occured throughout the world in; South Africa; Saudi Arabia; France; England; Turkey; Iraq; the US; Belgium; Canada; Iran; Yemen; Morocco; and even in Israel. On May 17, students at a art school in Jerusalem protested the Israeli responses to the Palestinian protests by listing the names and ages of all those killed in the protests throughout the school. This led to the Science Minister Ofir Akunis banning the schools exhibits from being shown at the international science ministers convention in Jerusalem.
Pope Francis commented asking for the violence to end as all "Violence leads to more violence." He asked for an dialogue to start to lead for peace.
Sarah Brammer-Shlay who was protesting Israel's actions in Washington D.C. told the Huffington Post, "As American Jews, we see Netanyahu saying he speaks for all Jews, and we're saying that's not true."
Zeid Ra'ad al-Hussein, the United Nations human rights chief, commented on Gaza's population by saying "They are, in essence, caged in a toxic slum from birth to death; deprived of dignity; dehumanised by the Israeli authorities to such a point it appears officials do not even consider that these men and women have a right, as well as every reason, to protest." He said that Israel has disregarded International Law by not protecting and ensuring the rights of Gaza's citizens.
Ra'ad al-Hussein has since then called for an investigation into Israel's response.
A Solution?
To resolve this conflict there are at least 4 options: an Israeli state; a Palestinian state; a new country; or a two state solution where the land is split and both countries are allowed to co-exist. The two state solution is by far the most popular, both in Palestine and Israel and amongst the international community.
The BBC's Middle East Editor, Jeremy Bowen, said "The thing about Gaza, the thing about the conflict between Israelis and Palestinians is that the issue at the heart of it doesn't change. And that issue, is that there are two peoples on one piece of land and until they can find a way to share it they will continue to suffer."