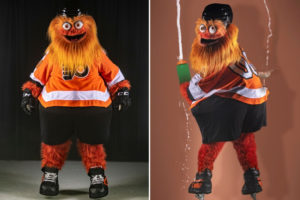 Avi Cantor & Jayla Wright
Editor in Chief & Copy Editor
On September 24th, 2018 the Philadelphia Flyers formally unveiled their new mascot, Gritty. In a normal news article, the writer would bullet the facts about the new mascot and possibly interview Flyers fans about their opinions. This isn't that kind of article.
✦✦✦✦✦
Avi's Story:
I awoke to the mellow hum of the final 20 or 30 seconds of SZA's hit song Broken Clocks on my nearly antique wooden alarm clock. Despite the oppressively humid rain that I was to encounter on my way out the door to school, my room was filled with thin cool air that made me cherish my blankets. Just the way I like it.
I rolled out of bed, slid my legs into ripped black jeans, tugged on a black ScHoolBoy Q shirt, and stuffed my computer into my backpack. I glided down the steps.
"Plenty of time to eat breakfast," I said to myself. "Maybe I'll have time to watch TV!"
In the middle of the narrow staircase on the way to my living room, my mom beckoned me to her, eyes wide with a mischievous smile creeping up her face.
"Look at this," she almost taunted me.
I slid next to her on the brown fabric couch.
In the middle of her computer stood a giant, putrid, orange mess.
"It's the new Flyers mascot! What do you think?"
It was horrifying. Its Voldemort-esque nose, Chucky-esque sinister grin, and piercing, flame-colored eyes made it look like a play toy suitable for a horror movie. How could this thing be deemed appropriate for a nationally broadcasted event?
My mom then scrolled to the right in her tabs and pulled up a compilation of parents showing their young children pictures of the new mascot. One child after the other shrieked in unnatural, almost primal fear. I didn't blame them.
As a 17-year-old who'd consider himself a stoic individual, I felt almost betrayed in my fear of this behemoth. How could they do this to people? What about this mascot would want fans to go to a game? How does this even relate to hockey?
Jayla's perspective:
It was a stressful morning. I woke up with bleary eyes and heavy limbs as if I hadn't slept at all. My morning routine ended up being rushed, resulting in me skipping breakfast and making the chasm in my stomach grow angrier.
To top this off, my commute became less of a simple ride and more of a dragged out journey. I found myself in a sea of cars that flowed like a lazy river. One thing became clear to me; I was going to be late.
Oh, but late to what? You might ask. Oh, nothing really, except a bus for a school field trip that was leaving for New York at 7AM sharp. A bus that would most likely not wait for one very late student.
I was screwed, to say the least.
Luckily, I did catch the bus, but I still felt pretty stressed from the whole ordeal. Nothing could lift my spirits… or so I thought. From the seat in front of me's conversation came giggles, then a voice.
"Have you seen the new Flyers mascot?" There was a groan that implied that the mascot was indeed seen. A phone was then being passed around that elicited similar responses of dismay. Unable to stop myself I looked up the man in question.
What I found was a creature with unforgiving eyes, a wide, never-ending cavern for a mouth, and dramatic orange fur… essentially a reject Sesame Street character.
I loved him immediately.  
I understand the negativity towards Gritty. He is unsettling. But I adore him anyway. Being disturbing is part of his charm. Gritty's character fits in perfectly with Philly. He makes you want to run away, but deep down you still love him.
And is that not the best representation of Philly? Something that is a little eerie but still makes you want to come back for more?
I rest my case.