Taylor Green
A&E Editor
On November 3rd, I walked into my job — Five Below at 7th and Market — to be greeted by miniature Christmas trees, different wreaths, colorful ornaments, and other various holiday embellishments. My cheerful expression immediately turned into a frown.
Usually, I'm excited about the Holiday season. This is because I've always been a shopper.
But now that I have a job in retail, my perspective has changed.I'm on the receiving end of people  going crazy about the holidays, even though December is a month away.
My favorite thing is when a customer will come in the store, shocked that we already have our Christmas decorations in stock.
"You guys already have Christmas stuff out?" They always say in disbelief — right before they buy wrapping paper, Christmas lights, and tree toppers.
Our store even had a mandatory holiday meeting this month. The managers explained that we're going to have to be more alert because this is the season for scammers. We were instructed to never put bags on the counter if the person hasn't paid yet, because they could run off with their stuff as the transaction is going through.
My managers also explained the "scan and bag" method, which is when you immediately bag an item after you scan it so that you don't scan it twice. That way a customer won't get upset with you and you don't have to go back and correct the item that you accidentally scammed.
An upside of the holiday season is that more business are hiring seasonal workers. That's good for teenagers searching for their first job or people looking to make a little more cash during the Winter. My job recently hired six new people, which makes the workload a lot more manageable.
Luckily, I didn't have to work on Black Friday. However, the Saturday afterwards was a madhouse. The store was an utter mess. No one could find time to clean due to an influx of people.
Customers came into the store looking for crazy items, some of which we didn't sell. This caused them to get angry and irritated.
For instance, a customer came in looking for a JoJo Siwa gift set for her daughter. We had JoJo Siwa bows, tutus, lip gloss, journals, and other toys but not a gift set. The customer insisted that we used to sell it, but my manager assured her that we never had that.
A big pet peeve that I have is when a customer sees something in a sales paper and is upset that we don't have it in person. It's as if they don't understand the concept of "while supplies last".
However, there are some good customers who are generous and don't get upset with you and understand that you're just doing your job.
There was one situation where a customer almost called corporate because their card declined and the transaction didn't go through. They swore that our pin-pad system had stolen their money. Another customer who was waiting in line defended the cashier until one of our managers diffused the situation.
A good thing about the holiday season are the extended hours. Our store would normally close at 8, but now we're open until 10 which has really benefited my paycheck.
Most people clear out of the store by 8 because they aren't aware of the fact that we stay open late, so we have more time to clean and finish whatever we need to get done.
Overall, the holiday season has been pretty stressful but it isn't anything that I can't handle. I have co-workers who are very experienced so if I ever need help, I can just ask them for backup. As for right now, I'm not going to let some of the negative aspects of retail warp my feelings about the holidays. Outside of work, I have my friends and family who will always rekindle my Christmas spirit.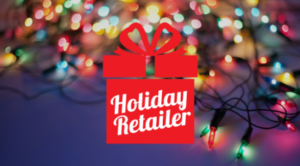 Source: Marketing Land