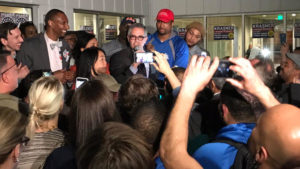 Sarah Berg
Staff Writer
The race to replace ousted District Attorney Seth Williams is upon Philadelphia. While civil rights attorney and Democratic nominee for DA, Larry Krasner, is expected to win by a large margin, people were surprised when The Philadelphia Inquirer published their endorsement for Republican candidate Beth Grossman. Their reasoning for this endorsement: Krasner's apparent lack of experience when compared to his GOP counterpart.
Grossman spent eight years running the Public Nuisance Task Force, which caused "people not even accused of a crime lost their houses and cars because of alleged actions by family members,"  admitted the Inquirer.
The article quickly brushes over this, stating that Grossman was "following the rules at that time and that now she would not take property unless the owner was convicted of a crime." Grossman appears to do what most people of the time did rather than formulate new strategies or alternate punishments.
That's where the line between her and Krasner becomes most apparent. Grossman's job as a prosecutor clearly contrasts with Krasner's career as a criminal defense lawyer (experiences some may consider unconventional for someone running for DA). And although Grossman says electing a Republican is likely to bring change to the city, the policies presented by both her party and the Democrats indicate something different.
Grossman's positions focus on victims' rights, protecting juveniles, the opioid crisis, and decreasing the amount of violent crime. Krasner's positions focus on ending the death penalty, halting mass incarceration, bring an end to stop-and-frisk, protecting the environment, and resisting the negative policies of the Trump administration.
Interestingly enough, both have mentioned President Trump in interviews with Democracy Now! "I am running this race to be the district attorney of Philadelphia. So what my views are of the president are irrelevant to this race," said Grossman. Krasner, on the other hand, sarcastically called Trump "the gift that just keeps on giving. So much wisdom." Krasner also went farther into his views on the president in a campaign video: "You have a wannabe dictator as president… You have a guy who hates free speech because he can't control it," he said.
The two candidates also have very different views on the death penalty. Grossman says it doesn't make sense economically, but would make exceptions in extreme cases, such as "if we have an example of terrorism and a first responder is killed, or the case like the individual went in and shot 9 people in the church down south." Krasner, on the other hand, is 100% against it. When asked if he would "ever pursue the death penalty in a case," he responded with a simple "No," before being prompted to explain why, citing morals as well as the economic consequences that are "destroying our public schools."
If you haven't figured out by now, I believe Larry Krasner is the better candidate. Although I'm not old enough to vote, knowing who can impact your life and the lives of those around you is important. I value knowing what is going on in the world, or in this case, the city. My opinion matters because, hopefully, someone who reads votes for the candidate I believe will change Philadelphia's legal system for the better. And in the end, developing opinions about candidates such as Grossman and Krasner allows me to practice forming my own morals and beliefs.