Chuckie Copeland
Staff Writer
9/21/15
Thank God! We are all getting out of school this Tuesday due to a rare, once in a lifetime chance, due to Pope Francis coming to Philadelphia for the World Meeting of Families. We will have what Ms. Pahomov calls a "Pope-cation" and what some have dubbed a "Pope-pocalypse." The city will be mobbed with an assumed 1.5 million tourists coming into the city. Many citizens however are leaving this city for a short vacation during the time off. How though, will people be able to get back to school in time for school to start again on Monday? Principal Gerwer only gives us a 10% chance of having school then.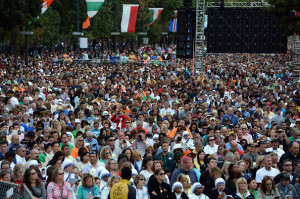 9/30/15
Well, we couldn't get to school on Monday as school would be closed then for the Pope. The school district of Philadelphia closed schools then because they assumed that the Ben Franklin Parkway would still be clogged and Septa was officially not running. We had the day off to just do whatever we felt like, and many of us enjoyed that time. However then came the opposite of a silver lining, the day that we would have off, would be taken away from our spring break. Was that fair to us?
To find out, I went around asking  people their opinion.
"No I didn't have much fun at all, I was bored. And the fact they took one of our spring break days was even worse." Sophomore Sam Dennis lamented.
Sophomore, CJ Irwin-Diehl said: "I did have fun, you know, spending time with my friends and hanging out but I don't think it was worth it to take a day off our spring break because we have like, no days off in March and April."
I didn't have to go much further, the consensus was quite clear that people didn't have that much fun, and to get a day taken off our spring break was not worth it.
Unfortunately, that's history! The Pope came and went, the city went on lock down for 5 days, and we all got an extra day off. People wish they had more fun and did not seem to have much enthusiasm for the Pope's presence, but that can't be changed. Maybe in the future the School District would be more considerate with our days off, and we might find ways to entertain ourselves.