Editorial;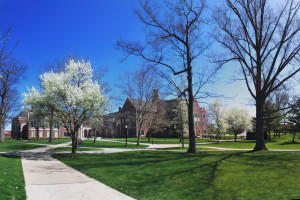 It's that time of year! Every Senior is awaiting a response from the college of their dreams and making their decisions, but it feels as though once you finally receive your letter and make your deposit, you get drowned in a lot of stories that cause you to rethink your college choices. Here are things you will need to know about the matter.
When applying to colleges, you should never let the stress blind you from looking deeper into a college. Although you want to look for a college that can give you a good education, you also need to look for a college you will feel safe in. Find a college you can call home, but as for scandals, you need to focus your eyes on whether the issue is actually real or whether the media is exploiting it and if they matter to you. The media tends to create a bigger problem for something that was already big enough or something that was not big at all. It is reasons like these that make a person rethink their college choices, but be careful because everything is not always what it seems.
One thing you can't fear forever is stepping out of your comfort zone, or making a mistake.. The truth is that you are going to be in college, you are going to do something stupid,"As you go into college, doing something stupid takes you stepping out of your comfort zone. You should always try to take a step out of your comfort zone, but never go too far or you will regret it. Yes you are bound to do something stupid, but make sure that that stupid is not something that screws you up in the future. Things that are acceptable leaving campus when you are not supposed to or hanging out in the dorms of the opposite gender, but getting drunk to the point where you can't move and wake up with no memory is unacceptable.  A lot of incidents are also caused to different racial viewpoints. In a school like SLA, where the community is diverse, racial slurs are less likely to be thrown around, unlike colleges, where they tend to be less diverse.
Sexual assaults are not a surprise on college campuses, and there are many things that influence these sexual assaults, like frat and sorority parties are a big part of when a sexual assault can take place. Of course there are many other areas on campus in which they take place, but parties can potentially play a big part.  
When it comes to reports about the safety of a school, pay close attention. Just because a school has a lower level of reported crime does not always mean they are safe places. Not all schools report every incident they have because they do not want to leave a bad impression on their school. As for those with higher reports, they do not cover up what happens in their school because they want to take action against what is going on, on their campus.
A student can fear so many things during the college process. It is only natural. There will be moments where all we tend to focus on is every single bad thing, but soon you get over it as you focus on the good things, such as making new friend and going for a career you will love. Yes, you should not be careless about what college you choose to go to, but never overthink things. Every college has their ups and downs, but there was a reason you wanted to go to the college you chose, if you didn't let anything get in the way before, why now?