By: Alhaji Koita 
In early 2014 Cvs the pharmaceutical retail store promised to the public that they would end the sale of all tobacco products in their stores. This is promise was met late september when the final smell of tobacco product was sold.
America has over 40 tobacco companies that sell over 350 billion dollars of tobacco alone. In past years, anti-smoking campaigns have had a huge impact in the amount of people who are smoking. Earlier this year, CVS Health launched a campaign relaying their idea of good health. In this campaign, members of the board chose to end all sales of tobacco products in all CVS stores nationwide. They followed up on this promise in early October when their final sale of tobacco was made. This was a bold move for CVS Health knowing that the tobacco industry made them billions of dollars.
Now that tobacco products are becoming harder and harder to obtain, will it will have an impact on teen smoking? SLA Media interviewed 25 students, this question ignited many positions about tobacco sell and its influence on students. After tallying the vote 68% of the students claimed that it will have an affect on students.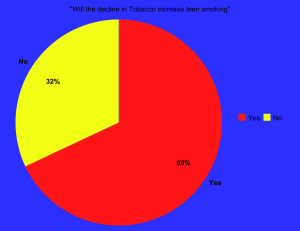 During the research process I imagined that there would be a much greater differential between students.But to my surprise ment it was not that astonishing, most of the students that I asked the question continued to answer further, and kept firm on their opinion. The student complied and said, "I don't understand why they don't just keep it the way it is. They know people are just gonna want it to more."- Anonymous.
Student across the country, not only in Science leadership Academy are facing the obvious & benign attempt to ban tobacco. So is this a futile exercise or will students begin to stay away from tobacco.