Kai Bradley Guitierrez De Teran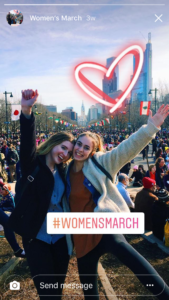 Staff Writer
On Saturday, January 20, 2018, The Women's March took place in Philadelphia as it did in many cities in the US and around the world.
The Women's March was first started as an act of disobedience against President Donald Trump and his administration on the day of his inauguration  2017. The march set out to  to bring attention to the sexism and misogyny  present in this administration. This year, organizers created a repeat to make it clear that  these problems had not gone away.
I attended the march with my mothers, father and exchange-student brother, and saw several of the speakers on the Ben Franklin Parkway, including Nedia Ralston, Governor Tom Wolf's deputy chief of staff, and Salima Suswell, one of the march organizers . Throughout the speeches, I noticed a pattern.  The speakers would have a solid speech and then start mentioning some other issues, such as the hurricane and relief effort, or lack of by the Trump Administration, in Puerto Rico, sexual assault in the military and the problems women soldiers and veterans face and healthcare. I think these issues were valid and are connected to feminism, the problem I saw was that the speakers would go on to forget or fail to mention the connection to the reason this march was occurring: Women's Rights. I think leaving this out was a mistake because it didn't enforce the purpose of the march as strongly as it should have.
At school the following week, I asked multiple students what they thought of the march themselves. Did the messages presented by the speakers hit the mark?
Senior Lukas Alexander Hoffman, an exchange student from Germany, said that he felt as if there were many 'feminists' who were using the march for other issues. While he believes that many of the issues are valid, such as how most of Puerto Rico was and has been left without power and water by the Trump Administration after it was hit by two hurricanes, he felt they were distractions from the main topic, which is the discrimination against women in this society, and divided the audience instead of uniting them.
Hoffman also said "There were people holding up signs between [connecting] feminism and veganism, or people [were] talking about Puerto Rico, and you can talk about those issues but overall they don't have to do with feminism. And in times where we talk about women getting harassed, about women being able to confront their harassers, it's not fair and it's totally wrong to misuse the Women's March as a platform for your own non-related agenda."
There's a term for what these speakers were attempting: intersectional feminism. According to a report in USA TODAY, intersectional feminism is taking into account the different types of discrimination that women, and everyone, faces because of there sex or gender and their race, class, ethnicity, religion, sexual orientation, etc.
I do believe that what is happening in Puerto Rico is a feminist issue because discrimination is occuring; poverty, lack of resources, etc. However, the problem is that the organizers and speakers did not effectively  to relate it to Women's Rights.  
On the other hand, march attendee Paula Gutierrez de Teran Prado — better known as my mother — pointed out how conversations such as these, that may seem off-topic, only happen at marches about Women's Rights.
"In the US, you would never go to a march against racism and hear a speaker, or one of the organizers, talk about the oppression that is specific to women. While both are important issues it's important to differentiate and focus on the one problem that the march is about. They should talk about racism in this society but they need to relate it to how this affects women and girls specifically."
Can intersectional feminism successfully take on politics as well? At the march, I felt it was wrong how many just anti-Trump signs there were because I wanted the march to explicitly  advocate for Women's Rights, not to compare Trump to Stalin or Hitler. As I looked around the march, at one point, I felt it was more anti-Trump than pro-Women's Rights or about feminism.  I found it quite ironic how a march for women's rights and feminism ended up being so centered on a white, heterosexual, upper- class man.
Now, I want to make it should be clear that this is all coming from the perspective of a 15 year old young white man who was raised in a feminist household. And
However, I didn't only have negative impressions the Women's March. It was truly moving to see thousands of people come out on a Saturday morning with their signs to support women's rights or be anti-Trump when they could be sleeping.
Senior Emily Stephens said that she went to the march because she felt it is an important movement and an important time to show support, "I feel like it was really important for women to come together and really support each other."
Stephens also commented on the speakers saying she felt it was important to recognize those women who have been making many changes in their community.  
Hoffman pointed out how it was very good and motivating to see so many people show up. While to him it was much smaller compared to marches in Germany, he thought it was very good for what he has seen and heard of marches the US.
The Women's March as a whole was great a way to notice all the organization and momentum that has gone into the fight for equal rights.