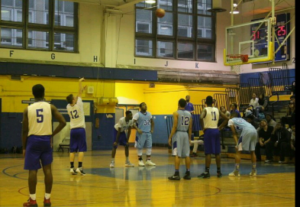 Aaron Watson-Sharer
Staff Writer
It's December, which means the SLA  boys basketball team has embarked  on another season with the goal of making the playoffs, a feat the team has yet to achieve.
This year's team  team is led by senior captains Lewis Ford and Benjamin Simon. The duo became co-captains as juniors and have thrived in the role. Last year, Lewis and Benjamin both averaged around 20 points per game.
Workouts have been going since September, and the season kicks off December 13th and the captains are more than excited to play with their team. It's "crazy" how fast the four years have progressed, says co-captain Lewis Ford. But for the seniors, a lot has changed in that time. They've gone from vital role players to the face of the Rockets.
"We've grown closer we learned how to work with each other and communicate better," said Ford. In a game like basketball, understanding your teammates and team chemistry is just as important as talent. The Rockets appear to be doing well in both departments.
Being senior captains isn't just a title, it's a responsibility. Not just leading many team practices and events, but they work on their craft while helping improve the rest of the team. "You need stay confident and understand making a mistake is ok," Simon said.  
Ford has made freshman player Micah Jack his personal project. "He handles the ball we'll, he has some work to do, but has all of the tools to succeed in Division E."
The team has the primary goal of becoming the first SLA boys basketball team to make the playoffs. . In Division E, facing schools that are larger? Have something we don't? explain] clinching a spot has eluded SLA in previous years, but the boys have their hopes up as many of the division's best players at rival schools graduated in the spring.
When asked what game was most important, to him, Simon only needed two words "Beating Masterman." SLA has yet to win one against Masterman and our captains have friends on the Masterman team they'd "love" to beat.
Our captains' careers aren't ending senior year. Or at least their senior year of high school. Both are receiving immense interest to play collegiate basketball and they both have expressed interest in doing so.
Simon sees a career in basketball. "I hope to play at the D3 level, I've gained interest from some schools. I want to find a career in coaching college basketball. The assistant coaches get to strictly focus on developing players." Ford sees a similar future. "I want to play in college then play professionally. I want to make a living off this sport. I want to see the world through a basketball lense."
So does their Coach Kay. Kay believes they both "can play at the next level." "Colleges, especially at the D3 level are looking for shooters, and Ben is a shooter." Lewis received similar praise. "Lewis is an athlete, on of the best I've had and he'll be able to keep up with the fast pace of college basketball." Coach Kay is very excited for the futures in store for his captains.
The Rockets are very ready to contend in Division E in 2016. They are prepared to face CAPA high school in the season opener on Tuesday, December 13th at Marian Anderson Recreation Center in South Philadelphia. "We got a game Tuesday and we just gotta look at the board one game at a time." Coach Kay has faith in this team and there seems to be little reason not to. With a team consisting of passionate seniors and prospective freshmen, there's a lot to like about these Rockets.
December Schedule-