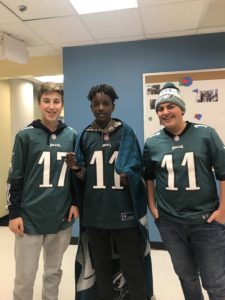 The Philadelphia Eagles have made a real comeback in the  2017-2018 National Football League (NFL) season — and SLA is celebrating!
On Sunday January 21, 2018, Quarterback Nick Foles Number 9, lead the Philadelphia Eagles to victory and taking the team to Minnisota for the 52nd Super Bowl, on February 4, 2018.
People on social media were overly excited before, during and after the game. Students and other citizens/fans, come outside their homes and sang to the Eagles anthem all night long. SLA is located in the heart of Philadelphia This home game really showed how hard the eagles worked for this season and students weren't scared to should that. Students on Facebook, Snapchat, and Instagram showed their loved.
Some students at SLA are delighted about what is going on in the football world. Some students are very straightforward and open to talk about the team, while others could care less about the Eagles or football in general.  
During the normal NFL season, the Eagles' record was 13 wins and 3 losses and went playoffs. In week 12, Quarterback Carson Wentz got hurt during the game against the Seattle Seahawks but was also announced as the NFL Midseason MVP. In week 13, Wentz tore his ACL and is out for the rest of the reason but Foles was ready to come in. In the past 10 seasons, the Eagles made it to playoffs 4 times. The last time they went to the Super Bowl was 2004, 13 years ago.
There are definitely students at SLA who have all this information memorized. During the regular season, SLA was not overwhelmed with kids in green jerseys, but there were a handful of students who faithfully repped for the team every week. 
"People on the team have really stepped it up this season… I was really scared with Jason Peters tore his ACL and MCL. Halapoulivaati Vaitai had to take Peters place but ended up doing a job well done. There really is no star player when it comes to the Eagles," Junior Leo Cassel-Siskind said with confidence.
Students who watch every game of football have a lot to say about the Eagles. However, not everybody shares their enthusiasm.
Every Monday, English Teacher Joshua Block asks his classes who has good news. The first person to raise their hand is Cassel-Siskind. He gives a recap of their game that happens within that week.
Other students who walk around school with Eagles' gear did not have the same passion as Cassel-Siskind but still said good things. When students around the school were asked if there was one thing they could say about the Eagles, many responses were given.
Senior Jorin Gerveni screamed, "E. A. G. L. E. S!" And then laughed. "I think this year is one of the greatest comebacks by the Eagles," he continued. "We're making it to the Super Bowl."
Other people who are very excited about the Eagles are Freshman Payson McConnell, Junior Kamil Kielar, Senior Justin Mack, and Senior Addison Zheng.
Zheng believes that this is their breakout season, while McConnell says that Carson Wentz is the best. Others believe that they are unpredictable. Former student Jahmar Askew states, "The Eagles are underestimated compared to other NFL teams. When people throw shade at them, I have to protect my city and our team."
"The team is really young, talented, and is a playoff caliber team this year," Mack Stated.
However, other students aren't as interested in football. Junior Eric Valenti believed that football lacks in culture and doesn't show sportsmanship. Other students were upset about the noise from last night's celebration on and around Broad Street.
The game before, the New England Patriots took the win and will be facing the Philadelphia Eagles for the Superbowl. The big question is: who is playing at halftime?