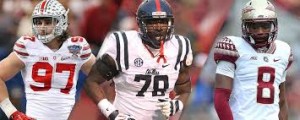 ***This mock draft does not include the outcome of the MNF game between Baltimore and Cleveland. Also will not include Week 13 Packers and Lions game.
It's that time of year again. Where NFL fans have hopes, but others have seen their team's' fate as they turn towards the NFL Draft. The NFL Draft, where teams based on winning percentages pick players to fill spots on their teams. All of the names we revere today were once selected. With the order being more clear with the losing trends of the Browns and Philadelphia's own Eagles, we can picture what could come this spring.
Every team has a need. You have 53 players, 22 which are starters and seven assigned picks based on the standings unless trades occur or teams forfeit or are rewarded a draft pick. North of 250 NFL hopefuls will be selected this May and they will have their chance to find a home in the NFL.
Round 1
Round 1 Pick 1: Tennessee Titans (2-9) DE Joey Bosa, Ohio State
Defensive End Joey Bosa is exactly what the Tennessee Titans could want. The Titans are in the cellar of the NFL, sitting at (2-9) with little hope of getting out. Last year, they took Oregon quarterback Marcus Mariota and he appears to be their quarterback of the future. Bosa hasn't had as good this year as he was his sophomore campaign but that shouldn't worry teams, his five sacks are just a preview of his potential. His ability to disrupt the line of scrimmage with absolute power make him attractive to any NFL team need a franchise pass rusher. Joey Bosa has had character issues off the field, he was arrested prior to this season but not charged. A Jurrell Casey and Joey Bosa combination is too good to pass up on. When division rival Texans have J.J. Watt, why wouldn't you want your own J.J Watt.
Round 1 Pick 2: Cleveland Browns (2-8) QB Paxton Lynch, Memphis
With all of the struggles we see from quarterback Johnny Manziel on and  off the field, we continue the yearly tradition of selecting a quarterback for the Cleveland Browns. The Browns since their renewal as a franchise in 1999 have yet to get a quarterback that can lead them to legitimacy. Paxton Lynch, who stands at 6'6'' has great vision and can make plays happen from the pocket. He is a true passer who can make plays with his feet as well. His size and abilities had him flying up board in 2015. There is no reason he wouldn't be worth an early pick to a needy team in 2016.
Round 1 Pick 3: San Diego Chargers (3-8) OT Laremy Tunsil, Ole Miss
Offensive tackle Laremy Tunsil might be the best prospect in the draft. The big left tackle has done everything in the SEC to be worth a top pick. San Diego Chargers quarterback Philip Rivers deserves better. He needs help from someone and Tunsil could be the guy. The Chargers defense ranks low statistically across the board but they need to know to take the best non quarterback available, and Tunsil is just that.
Round 1 Pick 4: Dallas Cowboys (3-8) OLB Jaylon Smith, Notre Dame
Easily one of the most snake bitten teams this season, the highly regarded Dallas Cowboys now sit at 3-8. Tony Romo's injuries have led to their demise and Philadelphia natives couldn't be happier. Linebacker Jaylon Smith comes in to save their defense. If teams are looking for the next Luke Kuechly, they should look no further than Smith. He has all five tools a linebacker needs to be successful in the NFL. Ability to tackle, rush the passer, drop back in coverage, spy the quarterback and speed.. Coach Brian Kelly said NFL scouts have been "drooling" over him and this shows that there is a demand for Jaylon Smith in the NFL.
Round 1 Pick 5: San Francisco 49ers (3-8) QB Jared Goff, California
The San Francisco 49ers traded quarterback Alex Smith away because  believed that quarterback Colin Kaepernick could be their future. Now that the Kaepernick experiment is over and they must start fresh and look to the draft. Goff is a pure shotgun passer who hits his receivers. He is capable of making every throw an NFL quarterback needs to be successful and he has the ability to read defenses well. He has franchise quarterback written all over him but the 49ers must develop him. He isn't ready to be thrown in the fire and they would be smart to coach him into their QB.
Round 1 Pick 6: Baltimore Ravens (3-7) CB Jalen Ramsey, Florida State
The Baltimore Ravens are in the bottom fourth of passing defense, and with the injury to Matt Elam, a pick like this could drive that secondary up. Receivers won't like a Jimmy Smith and Jalen Ramsey combination. They may need some or any kind of offensive playmaker for Joe Flacco, but keep in mind that their first round pick from last year, wide receiver Breshad Perriman has yet to play and they haven't given up on him. A top defensive back like Ramsey can make any secondary better.
Round 1 Pick 7: Philadelphia Eagles (4-7) OT Ronnie Stanley Jr, Notre Dame
What? No quarterback? No defensive back? No wide receiver? Yes I turned to perhaps the Philadelphia Eagles' biggest need, the offensive line. Jason Peters and Lane Johnson are good, but Peters is running out of time. Stanley has elite left tackle potential and could protect the undetermined quarterback of the future. Ronnie Stanley has been a consistent player for the Irish his whole career. Laquon Treadwell would also be a great pick but any QB would be a reach and recent history shows reaching at the QB position has been unsuccessful.
Round 1 Pick 8: Miami Dolphins (4-7) CB Vernon Hargreaves III, Florida
Miami Dophins cornerback Brent Grimes can't be a premier player forever. He's about to be 33 and their other cornerback, Jamar Taylor is a number two cornerback at best. Vernon Hargreaves has received the same praise as elite cornerbacks like Darrelle Revis and Deion Sanders  because of his elite coverage ability. He got noticed early his freshman year and has dominated the SEC. Every year we get good cornerback prospects but he is the best since Patrick Peterson.
Round 1 Pick 9: New Orleans Saints (4-7) DT Robert Nkemdiche, Ole Miss
Nkemdiche was once the consensus top high school recruit and he has lived up to those expectations. The 6'3'' 300 pound defensive lineman makes trouble where there should be none on offensive lines. The New Orleans Saints have the worst defense in the NFL, except for maybe the Giants. The 3-4 defense they run needs elite talent, and Nkemdiche is the most impactful defender left. Cameron Jordan and Robert Nkemdiche could be a lethal duo.
Round 1 Pick 10: Jacksonville Jaguars (4-7) OT Taylor Decker, Ohio State
The Jacksonville Jaguars have their long-term investment in quarterback Blake Bortles. Protecting him should be the priority. This offense found its tailback and its wonderful wide receivers. Games are won at the line of scrimmage. It's time for them to move Joeckel over so Decker can be the next left tackle.
Round 1 Pick 11: St. Louis Rams (4-7) WR Laquon Treadwell, Ole Miss
Round 1 Pick 12: Detroit Lions (4-7) DT A'Shawn Robinson, Alabama
Round 1 Pick 13: New York Giants (5-6) CB Mackensie Alexander, Clemson
*Round 1 Pick 14: Tampa Bay Buccaneers (5-6) DE Shaq Lawson, Clemson
Round 1 Pick 15: Oakland Raiders (5-6) CB Tre'Davious White, LSU
*Round 1 Pick 16: Buffalo Bills (5-6) ILB Reggie Ragland, Alabama
The Buffalo Bills miss what they lost in Kiko Alonso. He was great fit in Buffalo but LeSean McCoy has been worth it. They must replace him. Reggie Ragland is a true defensive leader amongst the best college football defense of the past decade. C.J. Mosley was the previous inside linebacker from the Tide and he has been nothing short of stellar. Ragland has impact potential.
Round 1 Pick 17: Chicago Bears (5-6) OT Jack Conklin, Michigan State
Round 1 Pick 18: Atlanta Falcons (6-5) OLB Myles Jack, UCLA
Round 1 Pick 19: New York Jets (6-5) OLB Leonard Floyd, Georgia
*Round 1 Pick 20: Pittsburgh Steelers (6-5) CB Eli Apple, Ohio State
The Pittsburgh Steelers have a good defense everywhere but the secondary. The Steelers secondary ranks 30th amongst 32 teams. Antwon Blake may be the worst starting cornerback in the NFL. The Steelers haven't drafted a defensive back since 2003, Troy Polamalu. Last cornerback taken in the first round was in 1997. If the Steelers want to contend they need a premiere cornerback.
Round 1 Pick 21: Washington Redskins (5-6) DT Andrew Billings, Baylor
Round 1 Pick 22: Houston Texans (6-5) QB Connor Cook, Michigan State
Round 1 Pick 23: Seattle Seahawks (6-5) DT Kenny Clark, UCLA
Round 1 Pick 24: Kansas City Chiefs (6-5) OT Germain Ifedi, Texas A&M
Round 1 Pick 25: Indianapolis Colts (6-5) CB Kendall Fuller, Virginia Tech
Round 1 Pick 26: Green Bay Packers (7-4) OLB Emmanuel Ogbah, Oklahoma State
Round 1 Pick 27: Minnesota Vikings (8-3) DE Jonathan Allen, Alabama
*Round 1 Pick 28: Denver Broncos (9-2) RB Ezekiel Elliott, Ohio State
Round 1 Pick 29: Cincinnati Bengals (9-2) WR Tyler Boyd, Pitt
Round 1 Pick 30: Arizona Cardinals (9-2) DT Adolphus Washington, Ohio State
Round 1 Pick 31: Carolina Panthers (11-0) SS Jayron Kearse, Clemson
The Carolina Panthers are shocking everyone with the undefeated record they have. The team has needs but great coaching from Ron Rivera has led them to greener pastures. Roman Harper and Charles "Peanut" Tillman are pretty much on their last legs and Jayron Kearse gets around the field and could pair well with Kurt Coleman.
*Patriots forfeited their pick due to Deflategate.
Teams are in desperation mode to appease their fans and hunger for a championship. There are many great players for 32 teams to consider. Let's hope mine and your's make the pick that sets them up for success.