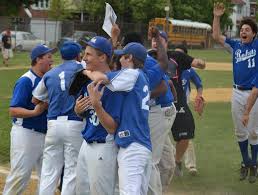 Staff Writer Micah Henry
It is that time of year again, indian running with four layers of clothing, gloves, hats, and thermals to the art museum steps. The one teammate who didn't bring enough layers and is asking for someone's other glove. The one who didn't bring water and is asking for everyone else's. The soreness of everyone after doing squats, pushups, sprint, crunches, and eventually jogging back to school. The amazing feeling of warmth engulfing you as you enter back in the school to head home from a practice. The overall dedication that made you decide to participate in this practice in the first place, the grind, this is SLA baseball.
A year later after making a completely unprecedented run to the final four of the Philadelphia Public League, a win away from the championship game at the Camden Waterfront Stadium, the Rockets fell short vs. opponent Franklin Towne High School. Prior to their unfortunate defeat, they had one a mesmerizing 16-0 C division season, beating teams by 10+ runs with ease and winning the title. However, it is C division. It would take a statement playoff run for teams to take SLA baseball seriously, and that was just what happened. First beating B division team Bodine by holding them to one hit and letting the offense rip. Then, SLA baseball made a statement by beating A division powerhouse Esperanza. Then finally, SLA baseball played most likely its toughest game in the history of the team, number one ranked Frankford, who were also the former Philadelphia Public League Champions. Down 5-1 at one point, SLA baseball made a magical comeback, eventually taking the lead on a two run single to hold on to a 6-5 win. Then in the Elite Eight, beating Lincoln to reach the Final Four were they, as aforementioned, went down to Franklin Towne.
Regardless of what happened last year, SLA baseball is now back and ready to take on another challenging run to the city title. However, SLA baseball lost a few key players, we also received three to four players who are the future of SLA baseball. The future is bright, and that was shown as SLA is 3-0 to start the 2016 season. Winning against Mastbaum by a score of 13-0, beating MLK 12-2 and today crushing Bodine, the team SLA baseball played first in last years playoff run, by a commanding 15-1 score. In three games, SLA baseball is outscoring opponents 40-3, primed for another run for the city title. There is nothing stopping SLA baseball this year. Rockets on three, family on six!