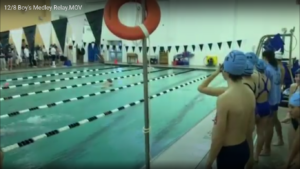 Valeria Escobar
Staff Writer
The Swimming team is back for its second year at SLA, but with continued COVID-19 precautions and other challenges.
Even though COVID affects the swim team and their practices, there's around 20 students who still participate and choose to be a part of the team. Sophomore student athlete Toby Hilton, who has been part of the team since his Freshman year, said that swimming is complicated and he likes doing activities that require hard work. It gives him motivation to become a better swimmer and to work harder in and outside the pool. Sophomore student athlete Eric Perez joined the swim team this year and even though this year's swim season may be difficult, Perez enjoys being part of the team and he wants to participate in future swim seasons as well.
SLA Special Education Teacher and Swim Coach Elizabeth Menasion explained that there's a lack of practice space which can complicate practices. "The thing that does impact how the athletes perform is access to practice space," she said. SLA as well as various other teams hold practices at the YMCA pool on Broad Street.
The pools previously used by schools that have swim teams have not been maintained partially due to Covid, which requires teams to share resources. Sometimes that means practices are crowded.
In addition to the crunch for space, other COVID safety precautions present disadvantages to the team, although most of them don't impact the way the swimmers perform in the water.
Toby Hilton brought up how masks play a big role at practices. "Before covid happened, people would usually walk around the pools without masks before they got in but now you usually have to wear a mask before you get in.". Unlike what Hilton said, Perez thinks differently about the role masks play at practices. "Nobody really uses their masks on deck, (COVID precautions) should be more strict." Perez said.
Ms. Menasion echoed Hilton's point, adding that it's really hard for athletes, coaches, and staff to wear masks on deck since the rooms are climate controlled, which means they're really hot. "For me as the coach, it's extra difficult to make sure everyone hears me in the pool when they need to and I'm wearing a mask and talking a lot louder and it's very hot," she said.
The season recently started, and on their first meet against Central High School, the boys team won with 86 points. The Girls' team scored 68 points, which was not enough to win but had some first, second, and third place wins. The team also has district qualifiers already. This was the first meet for the majority of the team. Even though other meets have been cancelled because of COVID cases, I'm excited to see how the team performs in future meets.
As the Swim team continues to become accommodated with the COVID precautions, Ms. Menasion, as well as everyone else in the team, don't know if the precautions are gonna become more strict if cases rise. However, as of January, the swim team is still going strong.