By Jesús Jímenez
Staff Writer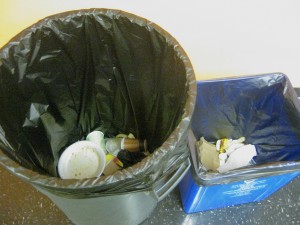 Does SLA recycle?
SLA is very familiar with litter and its problems — A recent example was when Principal Lehmann expressed his concern for the amount of trash left in the halls after lunch, earlier this year. Even though the littering problem isn't solved, students are aware of it.
But what about recycling? Does it even happen?
This question has a complicated answer, and the story goes back several years.
Sophomore Wynn Geary was aware of the lack of a proper recycling program at SLA. A mini-course during his freshman year inspired him to take the initiative and establish a recycling program at SLA.
He and his friends contacted not only Mr. Lehmann, but also the school building's landlord, who had no problem aiding the students in their cause.
By the spring of 2012, small blue recycling bins were all over Science Leadership Academy's halls, and a new recycling dumpster was placed outside the building.
Unfortunately, these additions did not make a difference in student behavior. Because students were used to only having trash bins, everything, including both recyclables and trash, went into the new containers.  As a result, all waste would get dumped into the trash dumpsters outside.
"[The building landlord] had promised us that he would make sure that the custodians would be taught where to put them," said Geary "but he didn't seem to follow through on that one."
Student opinions about recycling at the school shows the lack of impact of the program.
"They don't recycle," Senior Aja Wallace said of SLA students. "Everything that goes in the recycling bin is trash."
Some students admitted to this behavior, but other like  Junior Diamond Blenman say they put their recycling in the blue bins. But do his friends recycle?
"Not really. They just put things in whatever, it doesn't matter as long as the bag is in there."
Even with the work they've already done, Geary believes that SLARP still needs to have an impact on the community.
As of right now, there is no active effort to teach students about recycling at school. Geary also mentioned a Twitter account (@SLARP) for SLARP that "we need to start using again".
It is uncertain what the future holds for recycling at SLA. Geary mentioned that it was SLARP's goal "to make it known that the recycling bins will be start being used as recycling bins. And that custodians are trained to put the recycling into the recycling dumpster."
Until the community starts to sort their trash, it will continue to all be thrown out.