By Isabela Supovitz-Aznar and Jenn Wright
Staff Writers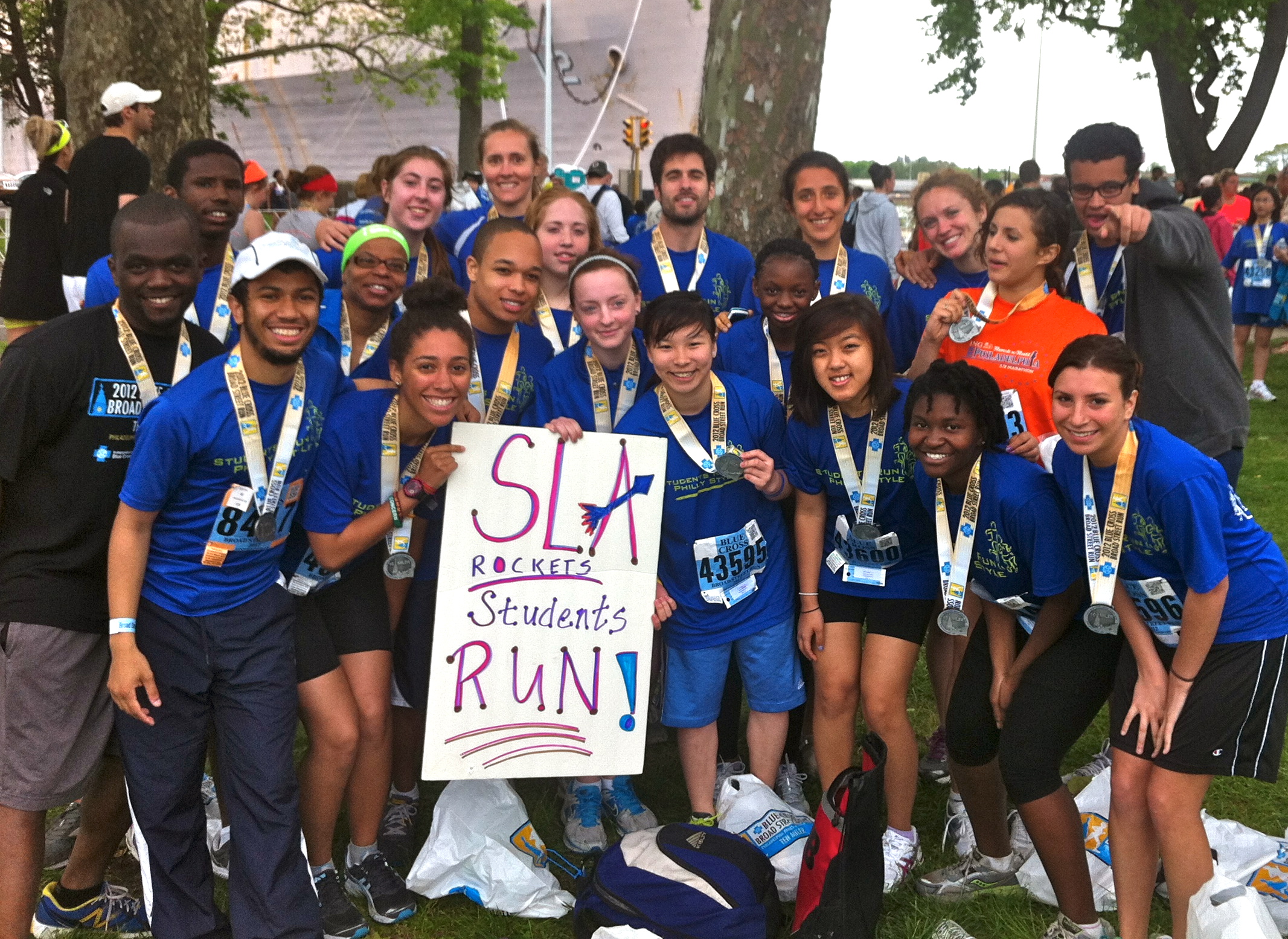 This Sunday is the Philadelphia Marathon and Half Marathon where 16,000 people will be running the course- and finally we will both be running them respectively.
For the last nine months, our running mentors Margy Wilcox and SLA's ILP Coordinator Jeremy Spry have trained us to be the best we can be.
Running makes you feel good about yourself, and you feel so accomplished after a run. Speaking for most of the team, we can say that many of us would be nowhere near ready for this race if Margy and Jeremy hadn't pushed us to achieve our goals.
Yesterday, November 15th after practice Jeremy came to us with bad news. Principal Lehmann's father passed away. What's more, the funeral is on Sunday– the same day as the marathon.
As a community, we are all affected by and supportive of each others' hard times that we have to endure. This translated into Jeremy instead running the first 13.1 miles and SLA teachers including Mr. Latimer and Ms. Thompson have stepped up to accompany us for the second leg.
Jenn:
With SLA's Students Run Philly Style team, I have trained since March to prepare myself to run 26.2 miles. That's not just running the miles- it's convincing myself that I'm not crazy for doing this.
Everyone has the ability to run, but committing to training is where the challenge lies.
I joined the team with the intention of just getting healthy and trying out running as a hobby. When I heard about the opportunity to run the Marathon, I wasn't thinking about whether I could or couldn't do it, only that it would be really hard and it sounded positively crazy.
The motivation to do something like this I can owe mostly to the support of my fellow Students Runners. But the person that has been there through it all, every tough mile, every newbie blunder is SLA's ILP Coordinator Jeremy Spry. To me, he is my coach, mentor and the person that showed me how awesome running is.
The loss of Mr. Lehmann's father is absolutely a far greater need than my wish to be running alongside Jeremy.
Even though I would love to have my coach cross the finish line with me, the team and I want him to be there for Mr. Lehmann and his family. We understand just how important it is. I know that he couldn't be prouder of all the things we've accomplished this year– many of us never having run before.
This speaks to running and life in many ways. We all must run on regardless of what trials come along.
On Sunday we'll all cross the finish line knowing that day, we all did what we were supposed to do.
Isabela:
This Sunday, I'm running the Half-Marathon.
I joined students run as a sophomore with a previous past of no sports since middle school. I was nervous to join because I was not active at all and I didn't know if I would be good enough. I had heard about the team and how much they ran and trained. I was not a runner, and could barely run a mile the first few practices.
Jeremy would run with me and push me to finish those first miles. I remember on my first three mile runs I'd begin to say "I can't do this. I need to walk" and Jeremy would say "Yes, you can." It's a huge commitment, but Margy and Jeremy are very dedicated to helping us succeed. They taught me running techniques and helped me finish the long runs I never thought I'd be able to finish.
Jeremy sounded pretty torn about how he would only be running the first half of the marathon with us and then he would have to leave to go to the funeral. But the team is a very strong community so we understood.
"I really wish I could be in two places at once," He told us. "I love you all and I want to each and every one of you to cross that finish line."
We all thank him for being such an amazing coach, and plan to make him proud at the race on Sunday.