William Derry
Staff Writer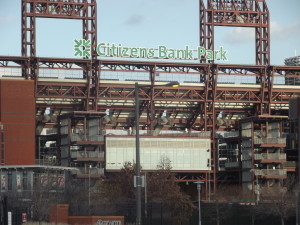 When Phillies closer Brad Lidge struck out Tampa Bay Rays outfielder Eric Hinske with his nasty slider in the ninth inning of Game 5 to end the 2008 World Series, the city of Philadelphia went into a frenzy. The Philadelphia Phillies had won their first World Series since 1980 when they defeated the Kansas City Royals in six games. It was also the first championship that a professional Philadelphia sports team had won in a while. Before 2008, the last professional sports team to win a championship was the Philadelphia 76ers in 1983. Philadelphia fans had to wait twenty-five years between titles.
Ever since Brad Lidge and Carlos (Chooch) Ruiz hugged in front of the pitching mound that October evening, the Philadelphia Phillies have been in a downward spiral. That next year, they went back to the World Series but lost to the 2009 World Series Champions, the New York Yankees. Following that, they went to the National League Championship Series (NLCS) and would eventually lose in six games to the San Francisco Giants, who would later go on to win the World Series that year. The last time the Phillies were in the MLB playoffs was in 2011, when they lost the national league division series in five games to the St. Louis Cardinals.
It's been seven years since the Philadelphia Phillies paraded down Broad Street, which was flooded with over a million screaming fans. Now, the Phillies can barely fill Citizens Bank Ballpark, with last years average attendance being 29,924, which doesn't sound bad but for a team that had a sellout streak that totaled 257 consecutive baseball games, that's a significant drop. (Citizens Bank Ballpark seating capacity: 43,651)
The Phillies are in the beginning stages of a massive rebuild project. The ball began rolling when veteran shortstop James Calvin Rollins, better known as Jimmy Rollins or to most Phillies fans, "J-Roll" was traded to the Los Angeles Dodgers for two minor league pitching prospects. Those two pitching prospects are Zach Eflin and Tom Windle. Rollins was a fan favorite, who played for the Phillies for fourteen years and was apart of a core group of Phillies players that included Chase Utley and Ryan Howard. Phillies fans were definitely sad to see J-Roll go but they understood why the move was made. It was the best decision for both sides.
Since Rollins was traded to the LA Dodgers, the starting shortstop position for the team is now open, but will most likely be filled by sure-handed infielder Freddy Galvis, who spent a good portion of the 2014 season on the disabled list and in the minor leagues before being a late-season call up. Galvis will occupy the position until shortstop prospect J. P. Crawford is ready to play at the big league level. Crawford was the Phillies' first-round pick (16th overall) in the 2013 baseball draft and played last season in the minor leagues.
Pitcher Cole Hamels, the 2008 World Series MVP, has been linked to many trade rumors over the past few years. The Phillies do not see Hamels as part of their future. In addition, he would bring back the most in return if they were to trade him. Hamels is only in year three of a six year contract extension he received in 2012, which will pay him $23.5 million in 2015.
It is still unclear what the Phillies would want in return for Hamels but three top prospects from another team would possibly satisfy Ruben Amaro Jr. and the Phillies front office. Acquiring 2013 American League Rookie of the Year Wil Myers from the San Diego Padres has been among the trade rumors. Hamels was born and raised in San Diego.
The departure of Hamels would not only help the team financially, it would also free up a spot in the Phil's starting rotation. This spot in the rotation could be taken over by recently signed veteran righthander Aaron Harang or lefthander Wandy Rodriguez but that remains to be seen. Being that both previously named pitchers are 35 years or older, the Phil's are biding their time until some of their young pitching prospects are ready. Those prospects include Germantown native Jesse Biddle, a first-round draft pick in 2010, and Aaron Nola, a first-round pick in 2014. The group also includes Adam Morgan, who is making his way back from shoulder surgery. Eflin and Windle also are in that mix as is Ben Lively, who the Phillies got by trading veteran rightfielder Marlon Byrd to the Cincinnati Reds.
Then we have 2006 NL MVP Ryan Howard, who is known as the "Big Piece." He is on borrowed time with the club because of the Phillies' decision to rebuild. It is unclear if Howard will be traded before the team takes the field for spring training in early March at Bright House Field in Clearwater, Florida or if he will be at first base for the Phils when they open up the 2015 baseball season at home against the Boston Red Sox.
Amaro tried to trade Howard, but has been unsuccessful so far. Amaro recently spoke on the radio (97.5 The Fanatic in Philadelphia). He stated that the organization would be better off without Howard and that he had told Ryan that, but then he said that if Howard was with the team that they would work around him.
Howard is currently signed to five­ year, $125 million contract with the Phillies and within that contract, Howard has a clause that allows him to block trades to twenty MLB teams. That leaves nine teams he can be traded to without the Phillies having to ask Howard for permission to do so.
If Howard were traded, it would open up a spot at first base for either, 28-year-old Darin Ruf or prospect Maikel Franco. Ruf has had trouble with playing time at the major league level, only playing in 105 games for the Phil's over the past two seasons. Franco is a traditional third baseman but could make the move to first base. Time will tell if Howard will continue his playing career in a Phillies uniform.
The man tasked with turning this team around is Amaro. He has come under fire since he took over the position after Gillick vacated the GM job after the 2008 World Series season. Gillick still holds a position within the organization, as Senior Adviser to Phil's President David Montgomery.
Let's face it, Amaro has been on the hot seat ever since. He has made his fare share of questionable decisions in the last six years, but the Phillies are sticking with him. Amaro would like to bring back competitive baseball to Citizens Bank Park soon. The question is will he be here when that happens?