by Maddi Extebeste
Staff Writer
On January 21st,  2017 the "Women's March" took place in Washington D.C. After the success of this event, the same organizers coordinated the "A Day Without a Woman" event in Philadelphia, which would take place on March 8th 2017, for the same purposes as the previous event: promoting solidarity and liberty. As Technology and Art teacher Marcie Hull said "this events represents human rights from birth, that everyone is born free."
On the day of the event, the female teachers first met outside of school and stood in front of the main door holding a banner which manifested their support of human rights (especially women's rights) and solidarity.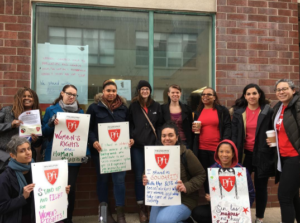 After the school day started, female teachers went to to English and Creative Writing teacher Amal Giknis' house, to do research and talk about the points there were presenting at their meeting at City Hall in the afternoon.
Once at City Hall, they met politicians who worked there, and had meetings with the city council to ask more fundings and present the points they wanted to talk about. Each teacher went with the person who represented their neighborhood.
Government and administration
The event was partially in response to an expected decrease in federal education funding, which will negatively affected schools in Philadelphia, especially for the children who don't have many economic resources
As Senior Fatu Castillo stated, "it's something has been taken to the people who needs it the most."
The new Secretary  of Education, Betsy DeVos, doesn't really believe in public schools, and sees them as a waste of money. The policy is that schools should have a certain percentage of progress to keep working, and for example public schools which not meet those expectations could be shut down, or turned into a private or charter school.
Ms. Hull explained: "What if the school can't progress much more because it has already very good results? This law would be a rule against success."
She also explained that education could be the "easy-target" for the government because 75% of the teachers are actually women, and that America society doesn't value women's jobs as much as they do male's jobs; Hull added "the government has a too patriarchal reasoning yet; the society wants to continue what Obama and others pioneered, but they don't let it progress."
English and Journalism teacher Larissa Pahomov explained "the biggest factor is money, but the government should provide equal funding to all the different departments like law enforcement and the streets' departments."
For example, teachers' salary hasn't increased in four years. Before these economic "cuts" in education in 2012, SLA had almost twice as many Spanish teachers and a librarian. The lack of languages teachers is one of the reasons why Rosetta Stone program was introduced.
In the summer 2012, all secretaries and counselors at SLA were fired, like 4,000 more people working for the SDP, and didn't know if they were going to get their jobs back the next school year. 
Possible Consequences
These events sometimes have consequences for the people who protest. On "A Day Without An Immigrant" some demonstrators got fired., At SLA, male teachers volunteered to cover their peers' absence. They got to the building early but t they stayed inside  when classes began. The female teachers appreciated this effort on the part of their colleagues.
"I'm lucky for being in this community and in this union which believes in women's liberation," said Ms. Hull.
They finally didn't invite students to join them in their march to the City Hall because one of the purposes was to make students "have a normal day at school," Hull said.
Moreover, the teachers who went to protest took a personal day, and as the School District of Philadelphia said, "teachers can take personal days for self expression".