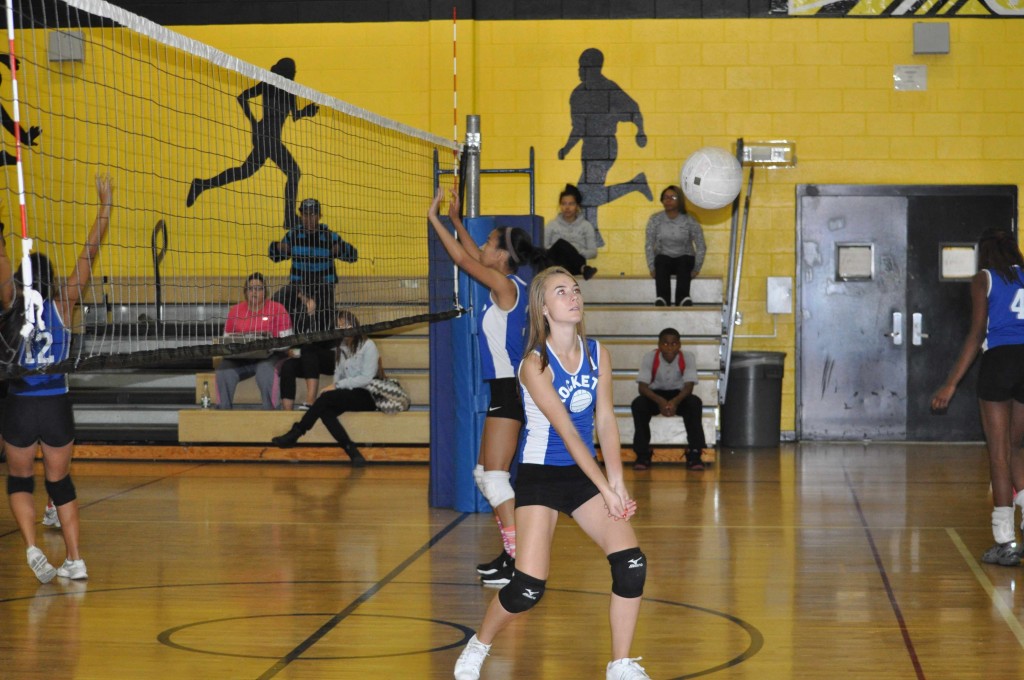 By Heather Campbell
Staff Writer
The girls volleyball team currently holds the record of 7-1.With two more games to go in the regular season, they have big hopes for what comes next.
"For the first time in a while we are really close to making it into the playoffs and moving up to the gold division." stated Volleyball Coach Karina Hirschfield.
Senior Volleyball Captain Marina Pyfrom is pleased with the team's improvement. "Last year, we were even. This year I wanted to win more than we lost."
In previous years, the girls volleyball team has struggled to find the consistency that allowed them to excel like they have this year. Starting preseason, the focus was to ensure there was a solid interest among the players.
"We are shifting the way we play on the team," commented Hirschfield. "Before we were expected to get good at everything. Now we are starting to identify players' strengths."
Previously, the team was challenged by not having enough experienced setters. Having two experienced setters, who control the offense of the team, has allowed other players to focus on their attacking skills.
"A lot of people have improved." stated Pyfrom, "We are playing as a team, and thats important."
The success of their season shows in their record, having only lost one game so far against Parkway Center City. "It was a pretty even competition." stated Hirschfield, "the biggest thing that we have been training around now is keeping it together and not choking."
With their one loss behind them and two more games to go, the team is looking for further improvement. Hirschfeld has mentioned the idea of starting a volleyball club to keep the girls practicing year-round  in preparation for next year's season.
"Four seniors are starters, but I think the freshman and the subs can pick up the slack." stated Pyfrom about what challenges the team might face next year.
Freshman setter Malwina Dymek is confident about the future. "We are going to be good."