By Staff Writer Isabella Mezzaroba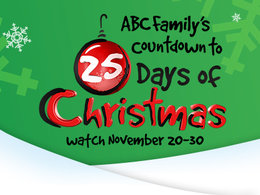 (At the bottom of the article, you can find the schedule of movies)
It's that time of year, again. The season some, who love baking cookies and spending hours in Macy's, wait months for. The season for those who cringe at the sound of jingle bells, dread. It's Christmas time and not only are our homes, families and stomachs gearing up for it, but our television schedules as well.
During the month of December, thousands tune into ABC family to watch the famed ABC Family's 25 Days of Christmas.  We all have our favorites, classics we've been watching for years. Opinions as to which ones to watch and which to avoid differ as you speak to various people.
SLAmedia's staff writer's have seen enough Christmas movies to know which ones to watch and which aren't worth the time you could spend baking gingerbread men.
"A Year Without a Santa Claus, that one's really good." Sophomore Staff Writer Zoe Schwingel-Sauer recommends.
"I just watch the claymation ones, like Rudolph and Santa Claus is Coming to Town, to laugh at them. They used to scare me a lot." Sophomore Staff Writer Claudia Bonitatibus said.
25 Days of Christmas, ironically enough, does not just feature Christmas movies. Disney films such as Toy Story and the Little Mermaid will also be shown in the month of December.
"Christmas Story and Home Alone are good" Sophomore Staff Writer Desmond O'Donovan pointed out.
"Grandma Got Run Over By a Reindeer" Senior Staff Writer Dejah Harley said. "I watch it every year."
Elf, most of SLAmedia's writers agree, is a classic. "It's just so funny!" Others, however, have other things to say.
"While I like Will ferrell, I think the movie is loud, obnoxious and kind of annoying," Sophomore Staff Writer Soledad Alfaro-Allah added to the ever growing debate.
I, myself to weigh in on the debate, can't stand Elf or most Christmas movies for that matter. My opinion, however is not the be all and end all. Tune into ABC Family yourself and make the decision. I know I will be, unwillingly of course.