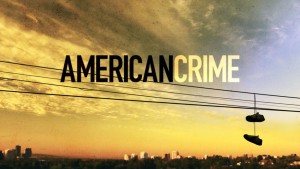 Sean Morris
Staff Writer
Although you probably haven't heard of it, ABC's American Crime has been one of recent TV's most compelling dramas. Like American Horror Story and True Detective before it, it follows the format of  an anthology series  where the premise and characters change each season (although in this show, most of the cast stays). The first season, which premiered back in March, has already gone on to numerous critical acclaims and awards- in including several Emmy Nods and a win for Regina king as best supporting actress in a miniseries or movie. Since its second season just recently premiered, I thought it was high time to talk about this extraordinary show.
While the plotline of the show changes season to season, it always centers around a  crime that brings controversial and tricky topics in modern american  society to the forefront. Past shows have taken on  subjects like racism, rape, classism, sports culture and more in an adult and well-handled manner.  Part of the finesse of the show is thanks to its  thoroughly talented actors and actresses. Some notable mentions include Felicity Huffman (of who I stand by that she deserved the Emmy for her work last season), Timothy Hutton, Regina King (who deserved her Emmy), Caitlin Gerard, Lili Taylor, Richard Cabal and more.
In addition to its cast, the way the show is filmed and told doesn't hold back on anything. I will  admit it is not for the faint of heart. It's little details like a girl's cracked phone screen, a tv station editing someone's quote to change the narrative, a casual line in a locker room about raping a girl, that makes  the show  edgy and gritty – and yet much more well written format than most shows in general will have, and is an even greater rarity amongst network channels. imply put, there is no other show quite like it on tv. That being said, ironically this show should not be confused with the other upcoming "American Crime" anthology series, which is being produced by Fox and will start with the trial of OJ Simpson.
Another fan of the show is our own Digital media teacher Douglas Herman. "I thought the show was impressive, considering it was for a network television," he said.
I'm normally I'm not a fan of those shows because I feel like they design the show to the commercial, and that feel's like they're not respecting the audience, but American Crime had more of a cable series or cinematic feel to it and they did an amazing job of character development and it was expertly edited- it was beautiful, it was like really well shot and the acting in it was really intense as well."
While the show may not be suited for those who squirm at frank depictions of crime, s, but I think the work is too good to possibly miss. The first four excellent episodes of the new season have already aired on ABC, so it's the perfect time to get caught up.