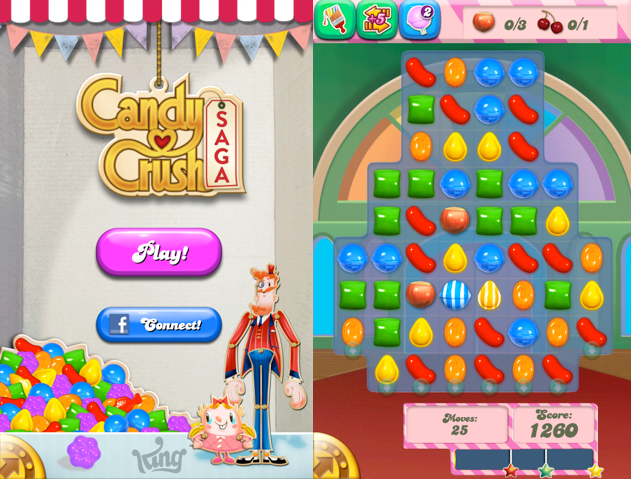 By Sam Lovett-Perkins
Staff Writer
Recently smart phone and tablet users have been indulging their electronic sweet tooth with the addicting and multicolored entertainment app: Candy Crush Saga by King.com.
Commonly referred to as just Candy Crush, the game is a Bejeweled-style matching game where lines, of three or more, similar colored candies must be made by switching positions of one with another on a grid board.
This style of gaming is not a new one, most notably seen in Bejeweled, but what sets it apart is the addition of "special candies" that act as bonuses and that each level could have one of many different tasks required to beat the level.
Like many apps, if you haven't downloaded it–a friend surely has and its popularity is singularly passed around by touch of finger. Before I downloaded this app I was well aware of its addictive qualities, but it wasn't until I had played for an hour and a half in bed did I fully realize what a monster I had let into my life. Luckily for each failed attempt at a level, one loses a life that is only regained by waiting an aggravating 20 minutes.
In truth I'd say it is a very addicting game, but after about an hour and a half I have to say it isn't necessarily fun. There is a certain overwhelming frustration when you only have 5 more moves left and you know you have no chance of winning the level. It only gets more infuriating when you have to keep looking at the happy go lucky characters in the game smiling at your repeated failure.
Senior Callie Monroe holds a similar opinion. "On the first day I'd give it a 10 out of 10, but by day 5 I'd give it a 4 out of 10, I had to delete it because I got so frustrated."
Meanwhile on the opposite side of the spectrum Physics and Spanish Teaching Assistant Mr. Gray is an avid Candy Crusher. "It's a really fun game, it's addictive".
It is clear to me that this game is for those with a little too much time on their hands, and should be avoided by those wishing to be productive.
Play at your own risk, the initial sugar rush to complete all the levels fades fast leading into an infuriating crash.