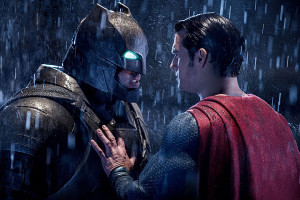 Sean Morris
Staff Writer
Here it is, A movie that has polarized critics and fans alike, with many people deeply divided about every aspect of the movie. Now I write my own opinion. While I didn't think that it was as bad as many claim, and had several good qualities to it, it was by no means a perfect film.
Here's what I liked: Numerous references to comic book fans like myself to appreciate from the plot lines, looks and even lines of dialogue. I thought the visuals were wonderful, and effectively showcased director Zack Snyder's impressive ability for visuals. Like for example the opening credit scene is surprisingly memorable as it shows the deaths of Thomas and Martha Wayne (probably the millionth time these people get killed on the page or the screen) but in aid with Hans Zimmer and Junkie XL's great score, makes it feel a bit more artistic and visually pleasing. The long awaited debut of Wonder Woman was a treat in and of itself, and Gal Gadot definitely stole every scene away from our boys in blue and black, even if she didn't have that much to do. There's was A LOT packed into this  over 2 hour movie that seems to be mostly set up for the larger universe, so it can be forgiven that some plot elements might not move as smoothly.
Another positive: Ben Affleck surpassed my own and many others expectations and did a very good job as The Dark Knight. While he is able to give us an older, more experienced Batman and a more weary Bruce than we've seen before, I admit he doesn't tread on much new ground, but is solid nevertheless. The supporting cast is all filled with solid, talented actors from Amy Adams, Laurence Fishburne, Jeremy Irons, Holly Hunter, Diane Lane, Scott McNairy, Tao Okamoto and more.
For those hoping that the movie would be 2 hours of Batman fighting Superman will be sorely disappointed. I knew from the start that would never happen, the actual fight is entertaining, but felt like there's less motivations and comes to an unsatisfying end. The rest of the plot before and after fight takes some interesting questions and point of views that makes the film feel as grounded and realistic as one can with a superhero film. As seen in the trailers, they do bring in the creature Doomsday, but made him look significantly worse than his comic book compartment. Why they did that I do not know, but it was a visual that was noticeably worse in a film that was full of great ones. I even thought the costuming was great. Bruce wayne has never looked sharper in his three piece suits and pin collar shirts, wonder woman had some amazing dresses, Perry White had a good selection of vests and contrast collar shirts, and while typically more casually attired Lex Luthor did have some nice suits, shirts and a sharp trenchcoat.
About the  polarizing portrayal of Lex Luthor- I admit that I myself am divided. I think Jesse Eisenberg did a solid job of portraying the character he was told to, and I appreciate renewing the character in a way that's both modern and original. Rather than the chrome donned business suit wearing titian, Eisenberg is appropriately a Mark Zuckerberg, Silicon-Valley type of tech genius.  However,  while I appreciate the new way and design of the character, I am not sure it still fits comfortably with how I've viewed him until now, and he came off a little too "Joker" like when I typically think of the character as more level-headed. Although, after some discussion with a dear friend of mine he brought up some good points on how was more updated for a modern audience and how his character could grow and evolve in future movies. While he may not necessarily have been my favorite part of the film, he was definitely one of the ones that left the largest impression on me, so props to Eisenberg for making me think.

In the end, Batman and Superman does not have the polished theme park glow of a  Marvel movie- it's gloomy, it's dark and it's gritty, but it's also more stylish, nuanced and brings in larger themes concerning religion, history, politics and human nature. While the plot suffers and goes into weird directions at times, it's a movie that seems less focused on itself, than for being a starting point for its universe which will undoubtedly unfold in future films. I found it to be an overall enjoyable flick, and will probably be one of the movie's I feel most conflicted about this year, but am excited to see what else the DC movie universe will bring.