D. Wade aka Flop King
Dwyane Wade of the Miami Heat is no stranger to the act of flopping. Over his 10 year career D.Wade has done is his fair share of acting on the court, but very few are as ridiculously Oscar worthy as his flop from last night's game against the Houston Rockets.
While defending James Harden, D. Wade committed one of the best flops I've personally ever seen. Harden happens to slightly touch Wade with his arm as he gets past him, but Wade reacts as if he was just decapitated. The crazy, yet not surprising, thing is the fact that a foul was actually called on James Harden for this play. It looks like D.Wade is going to have a hefty fine to pay when the NBA gets ahold of this clip…. Still deserves an Oscar though.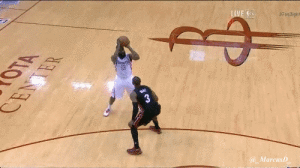 Mayweather Fights Marcos Maidana in May
It's official! Floyd "Money" Mayweather(46-0-0) will have Marcos Maidana(35-3-0) as his next victim. This past week, Mayweather announced who his next opponent will be and it will be none other than the man who knocked out Floyd's prodigee Adrien Broner; Marcos Maidana. Maidana previously was speculated to have a rematch with Broner as his next match, but this was put to rest when Mayweather announced him as his next opponent.
It's safe to say that Mayweather is going to try and get some payback for Broner by knocking Maidana. If Mayweather does knock him out, this will be the first knockout victory that Mayweather has had since his controversial KO victory over Victor Ortiz. This fight is scheduled for May 3, 2014 on Pay-Per-View via Showtime/CBS.
Daniel Alfredsson loses teeth
Hockey players are known for their toughness, more so than any other professional sport. Daniel Alfredsson of the Detroit Red Wings proved that to be true last in a game against the New Jersey Devils. After being hit in the mouth by an opponents hockey stick, Alfredsson continued to play as if nothing happened. It wasn't until he realized that his mouth was bleeding that he stopped to discover a few of his teeth on the ice.
In true, stereotypical hockey player fashion, instead of leaving the game, Alfredsson simply picked up his teeth, and continued the game after a short break as if nothing happened. He's scheduled to have some dental work done today to fix the gaps in his teeth.
Dunk of the Week: Kenny Dobbs Dunk over Man on Fire
Kenny Dobbs is known as one of the best dunkers in street basketball. So much so, that his dunks make NBA Slam Dunk Contest dunks look like a walk in the park. His newest dunk does just. In truly spectacular fashion, Dobbs dunks over a man who is lit on fire… with a ball that is on fire…. setting the net on fire…. Straight Fire.