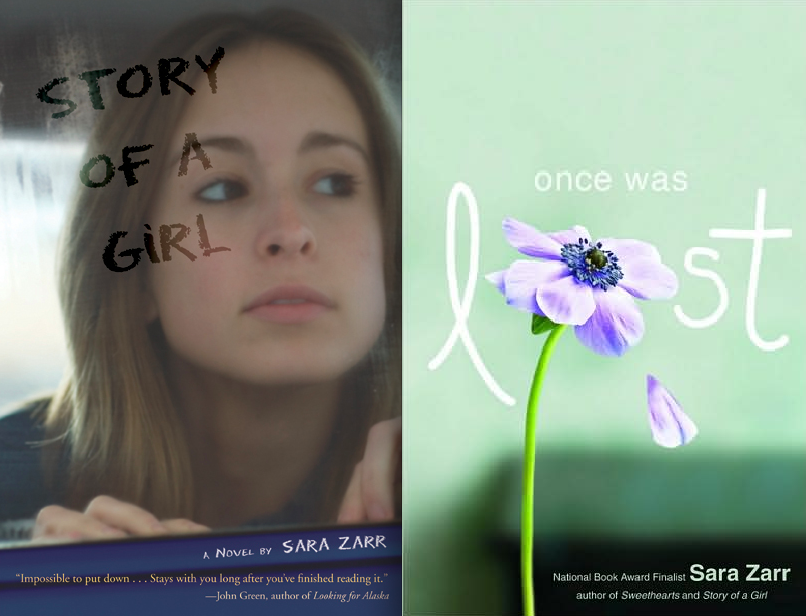 By Alex Ringgold
People have flaws. That's a fact, and now that we both agree let's talk about two books from author Sara Zarr, Story of a Girl and Once Was Lost. These are both fairly short young adult books I've happen to read recently, both about 16-year-old ladies trying to figure themselves out.
Story of a Girl focuses its attention on Deanna Lambert, who at the age of 13, was caught almost having sex with 17-year-old Tommy Webber by her dad. Since adolescences are quick to judge, she has a hard time fitting in school without being labeled as the school slut for most of her high school life.
In the universe of Once Was Lost, a girl, named Samara Taylor, is losing faith in her belief of God, because recently her mother was admitted to rehab due to alcoholism. Her lack of faith is only made that much awkward (and ironic) since her father is the priest of the local church. Then, to top things off, a young girl from the church's choir gets kidnapped.
Both these stories seem innocent and sweet for young females to relate to, but then—BAM! There's that thing in there that at first you don't agree with, due to the age and gender of the characters, but these stories are written similarly to point out the flaws in people.
That's what made me read these books. Though I am a guy, I could pull some relatable qualities from both these characters. Deanna, from Story of a Girl, was down-to-Earth, knowing she could never win over those who thought of her negatively, she just went about life minding her own. Her flaws consisted of liking her best friend Jason, even though he was with her other best friend Lee. That's what made Deanna, to me, real, because she knew it was bad to have those feelings, yet she didn't pretend like they didn't exist; she was real with herself.
Story of a Girl made me think about myself as a person and I saw maybe I'm not so different in the way Deanna thought. She just wanted to be accepted and have things she couldn't.
It is just too bad the ending was so abrupt. I feel like everyone who read this book turned the last page and flipped the book over because the book felt like it was missing some pages, if not an entire chapter. The only drawback to Story of a Girl is the sudden ending.
So, when I went from Story of a Girl to Once Was Lost I was expecting a relatable character, a likable character. Sadly, Samara made me want to close the book and walk away on many occasions. Samara, in my opinion, was too indecisive with what she wanted; she was too weak to handle many situations where Deanna would've conquered. Not trying to compare the two, it's just Samara always needed to find blame for something happening and was too dependent on an answer being there. It drove me up a skyscraper (no trees here) every time she complained that her dad couldn't understand her.
Deanna was more mature and aware. While Samara dependent and confused.
However, I think that's what the author was going for. For me to like Deanna and dislike Samara. They are two different characters with two different stories. I'm not obligated to like them both, but the only way Once Was Lost worked as a story is because Samara was intolerable at times. Which was a clever trick on Ms. Zarr's part because I've only read book with intolerable characters that change morally at the end.
I think these are both good reads, nice and short and don't try to be something they're not. I recommend both of them, but don't kick yourself in the butt if you miss them.