Caution: Choking Hazard- Sports Talk with the Straight Shuter
by Jesse Shuter
Staff Writer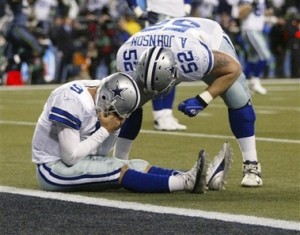 This Photo is courtesy of http://www.delawareonline.com/blogs/uploaded_images/ capt.sea12501070450.aptopix _cowboys_seahawks_football_sea125-741604.jpg
Tony Romo is king of the choke artists. Everyone knows that, for as long as I can remember, I have been hearing that Tony Romo is terrible in December, and that he is a terrible quarterback. But the question is, is he worth it? Is Tony Romo worth having as your quarterback, even if he can't play in December?
Clearly, the Dallas Cowboys think that the answer to this question is yes, since they just re-signed Romo to a big deal, despite is wintertime woes. Many people respected that decision, claiming that if you consider the other quarterback options at that time, Romo is leaps and bounds ahead of the other options. However, even though Romo has had a good year, if you look at his quarterback rating (QBR), through the end of November, so not including December, he averages 57.1, which would rank him 18th in the NFL. Meanwhile Josh McCown and Nick Foles, who started the year as backup quarterbacks, have QBRs of 85.7 and 69.1.
McCown with 85.7 ranks first in the league, while Foles with 69.1 ranks sixth. Even Matt Cassel, who was shunned by the Chiefs, his ex-team, and was a free agent for anyone to sign has a QBR of 61.0 putting him in 13th in the league and ahead of Romo. This means that if the Cowboys signed Cassel in the offseason, instead of re-signing Romo, they would have a better quarterback. The most shocking thing to keep in mind is that, I did not include the month of December in Romo's QBR, therefore this is from when Romo was still "a top QB".
What I think to be the more important reason for Romo's label as choke artist is his late game bad decisions, more than his December performance. In Romo's career, entering the fourth quarter with the game either tied, or his team winning, Romo has seven interceptions. SEVEN! In the history of the NFL, no other quarterback has five.
Without a doubt Tony Romo has proven himself to be a choker. So now for the question. Is Tony Romo worth having even with his struggles? The answer, no. Romo is very expensive, and obviously he is not necessarily worth it either. One of the luxuries that an NFL team has is that it can cut it's players at any time. So I think that if the cowboys cannot get to the playoffs this year, it is time to cut ties with Tony Romo. There are other options in the draft (Teddy Bridgewater, Johnny Manziel, Brett Hundley, etc.) and in free agency (Jay Cutler, Michael Vick, Josh McCown, Matt Cassel, etc.) or even trade (Kirk Cousins) so they don't have to look far for a replacement.
The Take Away:
Because of Tony Romo's struggles, the Dallas Cowboys lost to the Green Bay Packers after a huge lead in the first half of the game. Meanwhile their rivals the Philadelphia Eagles were beaten by the Minnesota Vikings. Therefore, if the Cowboys had won, then they would be in first place in the division, and be going to the playoffs. However since they didn't, the Eagles are still very much alive and have a good shot of returning to the playoffs.
Some people say that the Cowboys still have a good shot at beating the Eagles week 17, which would send them to the playoffs. Don't expect this to happen because Tony Romo never fails……..to fail.
Shuter's Sleeper Pick:
Ryan Mathews (RB), San Diego Chargers
For the first time since his injury, Mathews has proven to me that he can handle a real workload and do a good job with it. This week he is playing the Oakland Raiders. These are the same Raiders that just got slaughtered by Jamaal Charles. So not only is their run defense TERRIBLE, but after the chargers go up by a good two to three touchdowns, I can see the chargers running off the clock, and Mathews will do the bulk of that running. Also look out for Danny Woodhead, he could see quite a few carries too.