By Abe Musselman
Staff Writer
Nine year old Quvenzhané Wallis is a bright, irresistibly charming girl who was thrust into the national spotlight by her Academy Award-nominated role in last year's Beasts of the Southern Wild. In doing so, she made Oscar history, becoming the youngest female and the first African-American child actor to be nominated for the award.
During the ceremony, a writer for the satirical news organization The Onion sent out a tweet which, well, called the little girl one of the ugliest words you can think of.
As the Twittersphere erupted into accusations of misogyny, racism, and just plain bullying, Onion CEO Steve Hannah issued an official statement apologizing for the comment, though it didn't do much to calm most of their readers.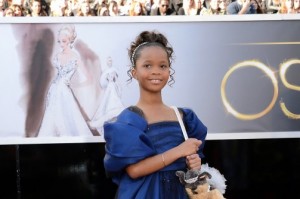 I didn't watch the Oscars this year, and found out about the fiasco while scrolling through Facebook. I've grown used to reading the Onion's headlines and getting a small (usually guilty) laugh out of the sardonic, ten-word bits of humor they release every hour or so. Their jokes resemble real news stories so closely that I often mistake their articles for pieces from NPR and vice versa.
So when I came across their extensive written apology, I assumed they were poking fun at the legions of people that are offended by their content. I scanned the letter looking for signs of their trademark sarcasm, but the letter maintained its sincerity. Convinced I had missed out on some big inside joke, I googled the story.
Now, the Onion isn't exactly known for holding back when it comes to sensitive subjects. They barely waited two weeks after the September 11th terrorist bombings before they published an all-caps headline reading "Holy F***ing S**t, Attack on America!" and the network frequently publishes dark, mildly controversial articles like "Special Olympics Tee Ball Stand Pitches Perfect Game".
So why was everyone up in arms about their Oscars tweet?
Well, for starters, the tweet was read by thousands of Twitter users who may not have been familiar with the Onion's biting brand of humor. While the tweets sent out by the news network would normally be read by their followers, the Onion tagged all of their award show tweets with the hashtag "#Oscars2013" so that they could be read by anyone following the program. Most users probably took one look at the tweet and immediately began penning their strongly-worded emails about how they can hardly believe what they were reading, what is this country coming to?, etc.
Second, the joke wasn't funny. There's really no getting around this one. Just about everything about it was wrong. It was badly timed, it was pitched to the wrong audience, and it took a cheap shot at an adorable nine year old. Regardless of what kind of message the Onion was trying to send about the way we view women on the silver screen or the way Hollywood exploits child talent, the author of the tweet forgot to be clever.
The last (and undoubtedly most important) reason that the Onion's ill-advised tweet angered even their most seasoned readers is that it was missing the humanity that is usually buried inside the Onion's darkest articles. Many people found that the September 11th issue perfectly captured their feelings of confusion and desperation. Humor is sometimes the only way we can make sense of things that would cripple us if we thought about them too deeply. The Onion's Oscars tweet tapped into the racial tension and inequality that has plagued our nation for centuries without providing anything more than a cheap laugh. This only added to an existing controversy about the girl's unusual name, which newscasters and celebrities alike refused to learn to pronounce correctly.
I've been watching the Onion's Facebook posts in the weeks since the Oscars, and I've yet to see them push the boundaries in their usual favorite topics (racism, women's rights, genocide). This seems like a wise move, but I'm worried about what it might mean for the future of the Onion and (I may be gettinga little ahead of myself here) the future of American satire. In their 25 years as a "fake" news source, the Onion has never apologized for anything they've produced. While unquestionably noble and probably necessary, their apology letter caused them to sacrifice something that they may not be able to get back.
One of the things that made the Onion so fun to read is the feeling of not knowing what to expect next. Now that I know there's a limit to how far they will go, I doubt they'll be able to shock me in the same way. I've been offended a few times by the articles I've read, but I've always been able to shrug it off with the knowledge that, in a way, that's the reason they exist.
Social satire is one of the most important ways we have to express our frustrations with the sometimes brutal world in which we live. It hurts to think that we may have lost our best source over a poorly-planned tweet.