Deja Harrison
Staff Writer
It was an average Monday afternoon for me, or so I thought…  I was heading to my Y band lunch with my friends like I normally do when I realized something was off.. The hallway seemed almost empty on one side of it. My friends seemed to all disappear except for one, Madison Harris. As her and I were walking down the hallway people started to hand us things. Candy, Teddy bears and flowers filled our hands and confusion filled my face. For some reason I could not guess what was going on but it was so obvious to everyone else. We walked further down the hall almost at the end and I stopped walking. I was scared to see who was at the corner waiting for me. I still had no idea what was happening my mind couldn't put it together. My friends liter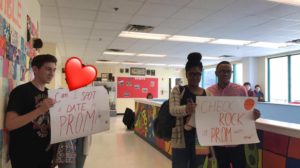 ally had to push me the rest of the way because I was so nervous. I closed my eyes and opened them and there he was. The sign said ¨ Can I spot a date to Prom with You¨. I thought it was cute with me being a cheerleader and all. It was one of the weirdest yet cutest moments of my life.
Promposals are a huge deal here at SLA. Everyone seems to go all out with the creative signs, flowers and gifts. It´s one of the best and cutest times of the year at school but no one really thinks about all the work that goes into it. One part is literally whipping up the courage to be publically rejected or not and the other person is put on the spot to give an answer. So here's a little inside edition from all sides of a promposal.
Saamir Baker asked someone this year and these are his feelings about situation. ¨ It was talked about but I never really thought it would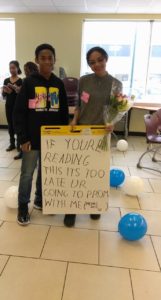 happen. Our moms actually put it together. I wasn't mad about it or thought it was weird it was just something that was going to happen. We were friends I didn't care if I went with someone or not but I'm glad I'm going with her. My mom pretty much made everything happen I just had to show up. Me being who I am I was very overwhelmed, it was unexpected honestly. After I digested that I was really going to ask her. Even though I already knew her and knew we were friends but I still didn't know her answer. I was standing there and I was so nervous for her reaction. What would she do when she found out it was me? My heart was beating so fast and I felt a little sweaty, then everything stopped I held up the sign for her so see. She read it laughed and said yes then she hugged me. It was one of the most nerve wrecking moments of my life.¨
Teachers at SLA also witness these promposal and have opinions on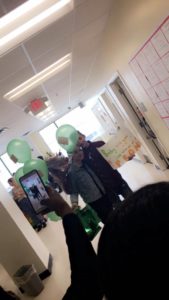 them. English teacher Larissa Pahomov noticed what she said was about 40 kids with there phones out in front of the girls being asked. Ms. Pahomov goes on to say that the kids weren't even trying to capture the girls reactions they were more focused on trying to get the entire scene.
It is still very early in the promposal game so I'm sure there are still plenty more to go in case you missed the ones that already happened. After all only one senior Peter Torelli has asked someone to the upcoming senior prom in May. We're running out of time guys, let's see some more promposals.