Chiara Nemati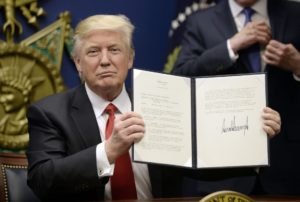 Opinion Editor
President Donald J. Trump's first weeks in office have consisted of him bashing the media, signing executive orders, and turning America's  allies into enemies. The globe sits in front of the television watching with the American people with inexplicable emotion.  
I am not immune to all this. My phone lights up and before looking at the screen, I already know what I am going to see. Yet another notification of some ridiculous executive order.
On January 27, Donald Trump signed an executive order  targeting seven nations by denying entry to the United States for their citizens: Iran, Iraq, Libya, Somalia, Sudan, Syria, and Yemen.
President Donald Trump signed the executive order on Holocaust Remembrance Day portraying to the American people his true character and lack of care for history. Trump did not acknowledge the many Jewish victims that lost their lives that day and rather referred to them as "victims of Nazi Germany."
The order, more commonly referred to as "the muslim ban,"  immediately took effect across dozens of airports in the U.S. Many refugees and immigrants stepped off planes so close to a new home and in some cases their families, to be detained. It did not matter if those entering or reentering the U.S. held green cards or visas. Lawful U.S. residents were being detained across the nation, sparking protests outside of many major airports, including Philadelphia International and J.F.K. Airport.
While this order is directly impacting people seeking refuge, people with educational visas, business visas, and green card holders, it is also negatively impacting current citizens. A federal judge, granted emergency stay for those entering the United States with legal documentation, halting the immediate impact of the executive order.
However, this is still a huge blow to the foundations and morals of this country. The United States is referred to as the "melting pot for a reason:" this country is made up of immigrants. Many of our citizens were once here on visas and green cards. My own parents, who hail from Italy and Iran have gone through this process.
Contrary to popular belief, entering the country does not happen automatically for people who travel here. To be granted a visa for the United States, you must go through a two year vetting process. The United States holds one of the most rigorous vetting processes, yet President Trump has repeatedly said  that terrorists can undercut the process. Currently the process of gaining citizenship includes an intricate and intense path. It is a process that can span over decades.
Many begin with applying for a visa. Many begin with an educational visa, then transfer to a working visa once they finish their studies. After a time they will apply for a green card, which allows them to stay indefinitely. Once they have been a lawful U.S. resident for a minimum of five years, they are able to apply for the naturalization test. Once they have passed this long process they are granted their U.S. citizenship.   
I was born in the United States, and when I was two years, old I traveled to my father's country, Iran. It was my first and last time traveling to the nation. While I do not remember my visit, I am left with tons of pictures of the beautiful sites and my entire family sitting together over dinner. These days, because traveling to Iran from the United States is virtually impossible due to the troubled political relations between our countries, my aunt and uncle travel here almost every summer.
Now they will be denied visas to visit us. A vast amount of the families living in the United States have other family members who live in one of those seven nations and are grappling with the same issue.
Iran took action against this ban and has decided to bar U.S. citizens from entering their nation. However, they are not barring people with legal documentation. Iran will be allowing people with valid Iranian visas access to their nation. This reflects a country that trusts their own vetting process. For the United States to throw their process out the window lets the unsubstantiated fear of Islam.. Iran's actions follow a more favorable path rather than the unpopular actions taken by Trump's executive order.   
Donald Trump, we are tired of getting the notifications of your poorly-planned executive orders. We are tired of your selfishness and lack of respect for the people, for history, and for politics. We are angered and we will continue to protest. We will continue to push back on your policies and create pressure on your incomplete administration.