Saamir Baker
Staff Writer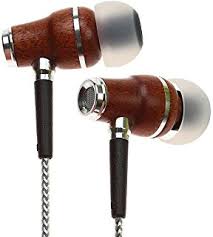 Introduction
Symphonized is a company that prides themselves on creating products that primarily use wood as the base for creating their music products from speakers, to earbuds, and earphones. Today we will be focusing on a product they have made that is a little over a year old named Symphonized NRG 3.0 Earbuds. From an initial look at the product, they appear to be very rustic which is a definite positive. The earphones and cable also appear to feel very stable compared to other earbuds that sometimes feel very flimsy to the touch.
In Ear Sound
For the price of $25.49, you get sound that I have yet to hear from other earphones at this price point. From the low bass to the trebles of songs these earbuds capture it all and with the projection of the wooden base that makes up the earphones the sound is amplified more than I've ever heard with earphones at this price point. The only con with these earphones is the louder you play the music after a few months of usage bass can become distorted at times which takes away from the experience of listening. However this happens rarely.
Overall
If you're still reading this review and are undecided then my final bid to you is BUY THESE EARPHONES. At this budget priceline you are buying earphones that blows competition out of the market but in design and sound. I have almost nothing but good things to say about these.