Lauren Nicollela
Staff Writer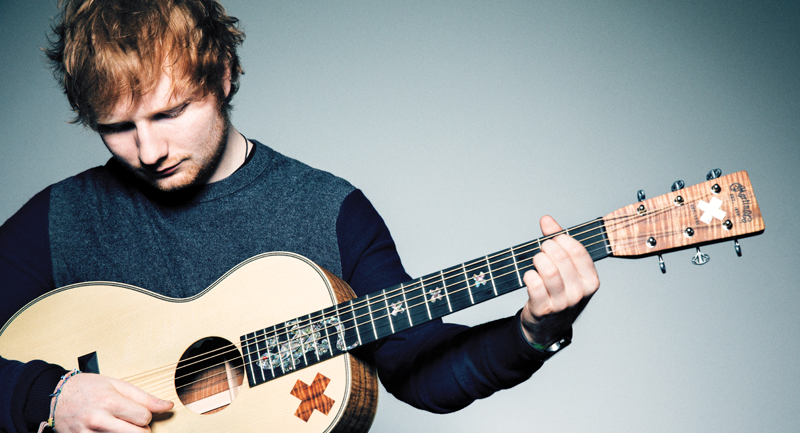 If you are a fan of Ed Sheeran, you most-likely have already heard the news. Not a fan of him? No problem. On December 13th, 2015 he put out a note on his Instagram page explaining that he would be taking a break from all of his social media accounts to set aside time to work on his new album.
Sheeran gained fame by playing around England and was discovered by Jamie Foxx after moving to LA. His fame grew more when he joined Taylor Swift on her Red Tour, being the opening act as well as being featured in a song. He performs with his guitar, having almost a folk tune with his acoustic sound.  
Then, on December 13th, 2016 Ed Sheeran tweeted out a simple photo that was entirely the color blue. This was posted at the same exact time as the note on his Instagram page was the year before. Three days later he tweeted out a video that contained him holding up a sign saying: "New music coming Friday!" with a little wave. It's safe to say that loads of people are super excited for his new release.
Sophomore Sadie Squillaciotti has been waiting for this moment, since she was upset he decided to take a break in the first place. "He's my favorite artist, and I really just want some new music."
In the media, celebrities like Niall Horan and Shawn Mendes have expressed their excitement and feedback through tweets. Both artists (and many more, including those who aren't famous) have gained some type of inspiration from Ed, and admire his talent and songwriting skills that produce such great songs.  
So far, every day leading up to Friday the 6th, he has tweeted out 5 second videos with the same blue background. They contain lyrics and hints at song titles, and a preview of what the cover will look like, which lead to the name being quickly discovered.
Ed's first two studio albums are titled Plus and Multiply, and the quick art had a flash of a division sign. Divide would be the title. Fans are assuming that he is sticking with the mathematical symbol theme for his albums.
Sophomore Lauren Brown was super excited, considering she's been a fan since 2010. "Not a doubt in my mind that Divide is gonna be absolutely insane."
Now that two songs have been released, "Castle on the Hill" and "Shape of You", there has been positive feedback. Both of these songs are high up on the charts, and have become well-known by the outburst from the fans and how quickly it all spread on social media.
Sadie expressed a lot of love for both of the tracks: "Ed Sheeran always comes through. I was not disappointed, both songs are on repeat, and I cannot wait until the entire album comes out."
Lauren had a different opinion. "Castle on the Hill sounds like a song for the ending credits of a low budget British romance movie that got rated two stars. I feel like he was only supposed to drop Shape of You (which I like) and then decided to throw in a second one for the fans." She also explained how she's waiting for the rest of the album, and saved the best songs for last.
Now with these two songs out, everyone else wants the Divide album to be released fully. There was such a long wait to receive music, and the new year became the perfect opportunity for Ed Sheeran to do so.
Here are the links to the new songs: