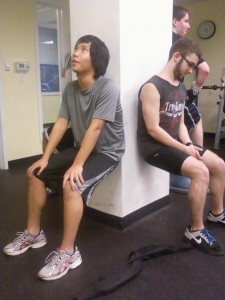 By Jenn Wright
Staff Writer
With a P.E. class known school-wide, the teacher everyone loves but loathes as she adds 30 seconds of wall-sits, Pia Martin keeps SLA fit, trim and entertained.
"I come to work out with Ms. Martin," Junior Matt Ferry said jokingly, "because one day I want to be as big as her."
More seriously, Ferry said that "she really knows how to push me."
Ms. Martin added: "and it's a GOOD TIME!"
Beside the required P.E. class, Ms. Martin hosts a staff-friendly after-school workout Mondays and Wednesdays at 4pm.
It all started when Principal Lehmann wanted to get more in shape. Martin trained the teachers during their free bands while the rest of SLA worked diligently or was at lunch.
This year, the workouts moved to after school.
The Martin brand of workout is not unlike others in its intensity and difficulty, but she puts a special touch on the routine.
As Geometry teacher Ms. Thompson put it, "She tortures with a kind heart."
When asked why she hosts the workouts, Martin responded, "because I am the sadist and they are the masochists." She then laughed.
Training the SLA sports teams like Ultimate Frisbee, the after school sessions have gotten quite popular. Students get a kick out of working out side by side with their teachers.
As Ferry said, "it feels like we are all on the same level."
The best part, however, has to be the music.
Ms. Thompson said, "I like that she does certain things specifically tuned to some songs. It's sort of like a dance party, but a workout."
Several attendees requested the music be promptly put back on when the songs stopped. One favorite is "Watch My Feet" by Dude 'n Nem used for its mix of slow and fast tempo.
Combining music and creative workouts — like Ms. Martin's use of a deck of cards with each card being a different exercise — keeps her followers coming back each week.