By Melissa Alvarez Staff Writer
In 2010 it was Rovio Entertainment's "Angry Birds", in 2011 it was Imangi Studio's "Temple Run", in 2012 it was Omgpop's "Draw Something", in 2013 it was King's "Candy Crush", and in early 2014 has arrived the game from hell, Flappy Bird.
Flappy Bird if you haven't already heard, is the #1 app in both the Apple and Android app markets, and honestly, I don't know why. The object of the game is to keep tapping the screen of your device in order to keep Flappy Bird from falling to his/her very impractical death.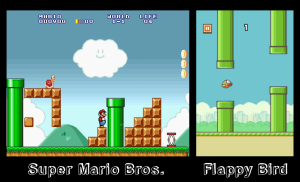 The challenging part about the game is that Flappy Bird has to fly in between, and we might as well just say it, the stolen warp pipes from Super Mario Bros. without touching them. If you come into contact with just the slightest edge of either pipe, Flappy Bird will die and you will have quit the game with newly found anger issues.
So who created this pixelated monster? Nguyen Ha Dong. He originates from Hanoi, Vietnam and has solely been running his own company, .GEARS studio for 4 years. He himself admitted in an interview that he's not even sure why his app has suddenly spiked in the game market. He also gave credit to the kids in schools that have, and still are, downloading and sharing his game.
Flappy Bird can be considered fun if you enjoy throwing your phone at walls. It's simple in the most difficult of ways. If you do choose to download this life consuming app, be my guest. But when you finally make it to a double digit score and are proud of this accomplishment, I think maybe it's time to start rethinking your life choices.
I think our friend 22amysmc said it best: