Tamir Harper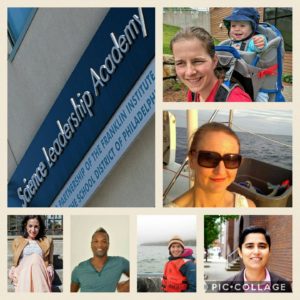 Staff Writer
From SLA to another job — what does it take?
In the past three years, six teachers have left SLA. Some have moved out of the education field, but many have continued working to empower the innovative approach that Science Leadership Academy takes towards teaching and learning.
However, many students don't know where their favorite teacher (or maybe not so favorite teacher) is doing now that they left SLA.
So where are they now?
This past week, many upperclassman found out the career change of one previous eight year Math Teacher Caitlin Thompson. Many students saw Ms.Thompson greeting students into the classroom of Spanish Teacher Melanie Manuel. Ms. Thompson came back to SLA as a substitute teacher while Ms. Manuel was out.
Ms.Thompson describes her day as "interesting" when teaching 9th graders that didn't know her.
"Most of the students gave me a big smile when they saw me.  Some didn't even seem to notice that it was any different."
That won't be the last time you see Ms. Thompson. She's "hoping to sub a few times a month plus sometimes I'll be stopping by since I work with Mr. Lehmann and Inquiry Schools." She was back on Friday, December 2nd to sub for Ms. Martin. 
Does that name sound familiar? If so, here's why. Inquiry Schools is the non profit that was founded by our founding Principal Christopher Lehmann. Mr. Lehmann serves as the Chairman of the Board and Superintendent. Ms. Thompson is not just a substitute for the School District of Philadelphia but she is also the Director of Operations for the group, which "works with educators, parents and students to create and support inquiry-driven, project-based schools with a focus on using modern tools."
Ms. Thompson isn't the only previous teacher that works for Inquiry Schools. A teacher that only Seniors know Ms. Diana Laufenberg serves as the Executive Director of Inquiry Schools. While at SLA she served as the Social Studies teacher and Coach of SLA famous Debate team, according to Ms. Laufenberg LinkedIn profile.
Mr. Lehmann explained how he continues to engage teachers that no longer teaches at SLA and previous students about how they feel about seeing Ms. Thompson, Ms. Laufenberg and at times Ms. Dunn who you will learn more about later on, inside our building.
"One of the really wonderful things about SLA is how alumni – students and teachers – stay involved. SLA teachers who have left generally leave either because of a change in their life or because they have a great opportunity to do something else. And generally, they have very strong positive feelings about what we've done together, so when there is a chance to work with folks on outside projects, former SLA teachers are a logical group of people to go to. It gives former teachers a chance to stay connected with us, and of course, it keeps us in contact with people we love."
Junior Deja Harris that had Ms.Thompson for two consecutive years for Math. "It feels weird because the person left, they said they were leaving and then they came back so like it's more confusing than weird."
Not everybody shares this feeling of confusion. Senior Aaron Watson-Sharer has been at Science Leadership Academy for four years and had the opportunity to be taught by Ms. Dunn and Ms. Thompson.
"It's something that at first was a tad awkward, but if I enjoyed my tenure at SLA as a teacher I would like to make regular returns. Now it's just whatever for me, I say hello if I walk past them and that's that."
Does he personally think it's important to keep teachers that left engaged in our school?
"I think it's up to the teacher. If they feel they want to remain apart of the SLA community we'll always welcome them back," said Watson-Sharer. Ms. Dunn and Thompson try their best to remain engaged, so why not?"
In the past, the school has lost English Teachers Meenoo Rami and Alexa Dunn, Spanish Teacher Mark Bey, as well as Science Teachers Rosalind Echols-Kuykendall and Stephanie Owens. Some continue to teach outside of Philadelphia, but others have moved on to a different career. Ms. Rami currently works as a Manager for Minecraft, Mr. Bey works as a New York public school Spanish Teacher, while Ms. Dunn still works for the School District of Philadelphia as a Professional Learning Specialist.
Ms. Echols-Kuykendall continued her educational studies at University of Washington where she is pursuing her Doctorate in Oceanography and Ms. Owens currently lives and teaches in San Francisco, California.
Where will you be once you leave SLA? Maybe you will be back as a Teacher!
Homework for tonight, readers: Google what Oceanography is! 🙂