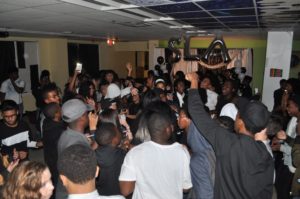 Maddi Etxebeste
Staff Writer
On Friday, December 2nd, the first-ever SLA Freshmen dance took place from 6:30 to 10:30 p.m in the SLA Center City cafe. This dance was for freshmen of SLA Beeber and Center City.
The event was primarily organized by the advisory of History teacher Pearl Jonas. They started organizing around the middle of October, and it was so exciting for Jonas's advisory and for her as well, she confessed "It's the first time I organized the prom!"
The event got a lot of positive attention from the class of 2020. A student of Ms. Jonas's advisory, freshmen Jeremiah Butler said "Everyone got very involved in the project, there was even a student who linked SLA Beeber and SLA Center City and the organization in general worked very well."
The theme being "Black & White", everyone in attendance was dressed accordingly. The tickets cost $6 if bought in advance and $8 at the door. The remaining money, after investing most of it in the party, will probably be spent on freshmen needs such as materials and activities/excursions.
The freshmen were in charge of  promoting the dance, and in the end approximately 140 people attended. The teachers provided drinks and food, including 23 boxes of pizza. "For the next time we should provide more drinks and less pizza!" said Jonas. There were also some electronic issues with the DJ, but that was resolved early in the evening.
Juniors and Seniors — Separate, Not Together
In May 2017, Senior prom will take place on the 19th floor of the Hyatt at the Bellevue on South Broad Street. Last year, the prom committee signed a contract for this year's event.
"It's a luxurious place, with a big room with the dance hall in the middle and very beautiful views." explained Health Teacher Pia Martin, who is also a teacher sponsor for prom. She also said that all the seniors are going to attend it.
The prom will have a pretty hotel theme, being very classy. Attendees get to enjoy appetizers, a formal dinner and a dessert with it. Senior prom will probably be from 7 to 11 p.m. The ticket price depends on the current price and the money they spend organizing it, but Ms. Martin predicted that it will cost approximately $80 each.
Junior Prom will be held in April 2017. Spanish Teacher Joselyn Hernandez, the junior prom sponsor, is still working on some of the planning details.
Many schools of SLA's size have a combined Junior and Senior prom. However, the very first class of SLA, who graduated in 2010, refused to share their prom with the younger students. Now the two proms have continued to be kept separate from each other.
Should sophomores have a prom as well?
Now that the freshmen have successfully had a dance just for their grade, there is a big debate around the proms and dances at SLA. With everyone asking:
Should sophomores have a prom like juniors and seniors (and now also freshmen)?
For many years, sophomore classes have attempted to organize an event, but they have never been able to get enough interest or commitment to make it happen.
Jonas explained that "I approved it, but students have to get involved in the project so they can organize the dance because it takes too much work."
Jeremiah Butler agreed. "They should also have a dance or something, but not as big as a prom."
Most of the Sophomores might not know yet, but some students are starting to spread the word. Announcing the possibility of organizing a dance for sophomores, knowing that it was the only grade without a prom or dance. It's not certain, but if more and more sophomores get involved in this project, they will be able to realize it.