By Jesús Jimenez
Staff Writer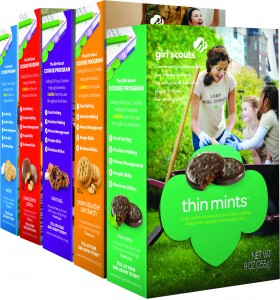 Girl Scout cookies have snuck their way into SLA culture in the past few years. Many students' favorites like Thin Mints, Peanut Butter Patties, and Caramel deLites have always been available through the few Girl Scouts we have within our school.
Until recently, Senior Jenn Wright, has sold the famous cookies since her freshman year. Now a former member of her troop, Wright remembers the popularity and demand that came with the cookies. On average, she sold around 600 boxes per season, most of her sales being from school.
Putting these up for sale also took quite a bit of work, "The hardest part was bringing them for school," said Wright. Eventually she made a special box to transport the cookies that literally took some weight off of her shoulders.
Jenn would also advertise through e-mail to potential customers and waited patiently at a table everyday in order to sell them.
Her departure from the Girl Scouts isn't the end for Girl Scout cookies at SLA, though.
Other girls like Freshman Isabella Mezzaroba and Melanie Harrington are active members of the Girl Scouts, which means that there will be no shortage of cookies this season.
While the job of selling cookies may be stressful, Mezzaroba finds the challenge enjoyable to some extent. What's her motivation to sell this season? "My troop is going to a trip to Europe this year," she answered. "So I wanna raise money for that."
Like Jenn, Mezzaroba normally sells between 500 and 600 boxes. This year Mezzaroba is confident that she will surpass that average, expecting to sell 700 to 800 boxes because of the popularity of the cookies at school.
It will be awhile before the remaining Girl Scouts leave SLA. But until then, we can count on them to provide a delicious treat to many of us this cookie season.