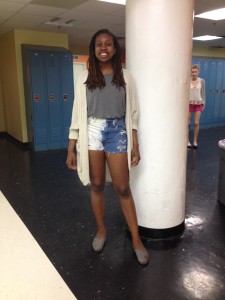 Interview by Kennedy Coverdale ( Staff Writer )
What are you wearing today, and where is it from ? : Well, this cardigan is from Antropologie, shirt from H&M, shorts from Urban Outfitters and my Toms, which are from Urban too.
What are your favorite brands/stores? : H&M, Urban Outfitters, Anthropologie, and BDG Denim.
What does fashion mean to you? : Fashion means everything to me.
Where do you get your fashion inspiration from ? : Pintrest.
If you had to wear one outfit for the rest of your life, what would it be ? : Sweatpants and Toms.