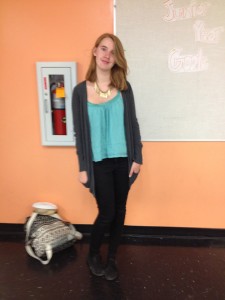 What are you wearing today, and where is it from ? : The necklace is from H&M, the shirt is from Urban Outfitters, and the jacket and jeans are from a German brand.
What are your favorite brands/stores? : H&M, Urban Outfitters, Abercrombie and Fitch, and Hollister.
What does fashion mean to you? : Most of the time, fashion means just waking up and wearing whatever looks good for school. In my free time, I wear whatever is most comfortable for me.
Where do you get your fashion inspiration from ? : What other people wear.
If you had to wear one outfit for the rest of your life, what would it be ? : Some of my favorite clothes, like something I'm wearing right now.