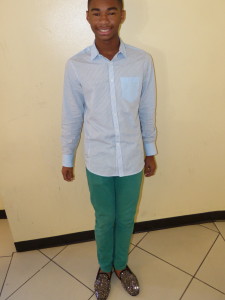 Exactly what are you wearing today, and do you know where each item is from?
A button down stripes shirt from J. Crew, green jeans from H&M, a Michael Kors watch, and Steve Madden shoes.
What exactly does fashion mean to you?
Fashion means everything to me. I live for fashion.
Do you consider yourself fashionable?
I guess.
How long does it usually take for you to pick out the outfit that you're going to wear for the day and what is your thought process as you pick out these clothes?
It usually takes about 2 hours, it depends on how I feel. If I'm mad I'm wearing a dark color, and if I'm happy I'm going to wear a bright color.
Who/What do you get your fashion inspiration from?
I get my fashion inspiration from the seasons, and the upcoming trends and I always dress a season ahead, I also get inspiration from anyone I see.
What are some of your favorite places to, or what are your favorite brands? And Why?
I love Nordstrom, Neiman Marcus, Urban Outfitters, and Zara. I like T by Alexander Wang. I like Calvin Klein, because it's really simple and I feel like those are key pieces that anyone should have in their wardrobe, and you can dress it up or down.
Interview By: Kenyatta Bundy Jr