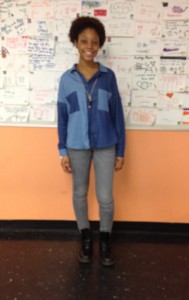 What are you wearing today and where is it from?

I'm wearing gry jeans from H&M, Doc Martens, a denim shirt from tobi.com, and jewelry from Cookie Lee.

What are your favorite stores/brands?

American Eagle, H&M, Forever 21, and Urban Outiftters. But I do like to find and visit new places.

What does fashion mean to you?

It means having your own style and wearing what you wanna wear. Like it's to look good and right for yourself and not have to worry about what other people think about your clothes.

Where do you get your inspiration from?

I don't like to copy off of others or start any trends. I buy stuff that I just like for myself and what looks right on me.

If you had to wear one oufit for the rest of your life, what would it be?

I guess I would wear long tunics and tights.