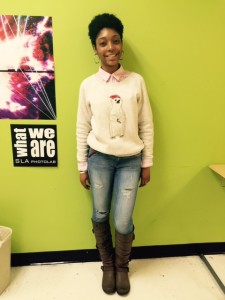 Nikki Adeli
Staff Writer
Where do you usually buy your clothing?
Honestly, everywhere! Most of the time I buy clothes from American Eagle and online shopping. I practically find new shopping sites everyday!
Any style inspiration?
Me, myself, and I! I usually just wear things that I like and would be comfortable wearing.
Do you have a favorite fashion trend?
I love harem pants! I love the flowy look it has when I'm wearing them. I hope to buy more soon!
Least favorite trend?
I hate when bandeaus are used as shirts. Don't get me wrong, I do like wearing a bikini top to the beach, but I don't like that trend as a part of an everyday outfit.
What is your favorite article of clothing you currently own?
I have this big, fuzzy, blush-pink sweater, that I got from H&M, that I could wear everyday. The sweater is pretty versatile so I can wear it in a lot of different ways. I love oversized sweaters