By Abe Musselman
Staff Writer
Junior Jovan Lewis is hard to miss. At six feet, four inches, he's the kind of guy who has to duck to avoid low doorways. Jovan is a model student and can often be seen hanging out in the SLA library, but most people don't know that he also has a deep love of comedy and sees it as the most important thing he has to offer.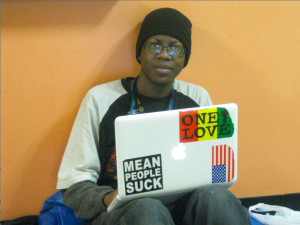 "I'll tell people jokes to make them laugh when they're feeling upset," he said with a smile during our interview.
Jovan just likes to cheer people up with a little laughter, which is exactly what he hopes to do with his newest project, The Jovan Lewis Show. He describes the program as a comedy talk show that is part reality, part fantasy.
Along with his co-creator and cameraman Pierce Meier, Jovan has a unique vision for his new show. "It's not going to be super-professional. Most of the comedy will be improv." He added, "I seem the funniest when I'm not actually trying to be funny."
The show will feature guests from SLA who will interact with the cast, some of whom play fictional versions of themselves. Other members of the show will include characters that Jovan dreamed up with his production crew, including an obnoxious stagehand and a racially insensitive high school student.
The creators plan to tape a live showing every other week using the video production equipment from Mr. Herman's Digital Video class, then release the recording the following Friday. Each episode of the show will then be edited using FinalCut and posted online in the tradition of other student projects such as Senior Stephen Holts's The High School Office and Senior Dylan Cordivari's Dylan's Dumpster.
Jovan has high hopes that his show will become a success among SLA students, and that he will be able to continue during his senior year. He dreams of becoming a filmmaker after high school, and sees this project as a chance to learn the basics and sharpen his skills before college.
More than anything, Jovan just wants to have fun doing something that he enjoys. He's not giving too much away for now, but you can catch the first live performance this Friday January 17th in the Drama Studio after school.
With its unique blend of strange characters and relevant discussion topics, The Jovan Lewis Show is giving SLA students one more reason to pay attention to one of our most unique personalities.