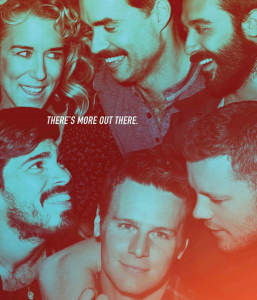 Sean Morris
Staff Writer
A few weeks ago, HBO's gay-themed television series was officially canceled by HBO, but are creating a movie to be made to finish up the character's stories. This news disappointed me greatly.
Before I go any further- for anyone unfamiliar with its content its essentially about 3 gay men living in modern San Francisco going through their various professional and (mostly) personal turmoils.
The show was wonderfully filmed with strong actors in their parts. Laura Weedman, in particular, shines as one of the central character's loud-mouthed long time friend. The storylines that didn't cover the same grounds that most shows do with their gay characters. These ones didn't have a massive coming out storyline, or faced any massive kind of oppression for being gay. Instead they were just normal people with normal problems who also just happened to be gay. But being gay itself certainly wasn't missed, with characters engaging in gay culture with things like the Folsom Street Fair, pros and cons of Prep and noticeably a character with HIV.
Ah, now lets talk about Eddy the Bear, the cheeky HIV- positive… well Bear of who was able to be the life of every scene he flirted into while having this terrible disease. It also showed him developing a relationship with one of the shows leads and is overall can even be considered a role model for those suffering through it. Representation cannot, cannot, cannot be underestimated and showing such a happy joyful character in what is typically considered a horrible circumstance can be unbelievably good.
So why is it being cancelled?
While HBO hasn't gone in depth about it what has been gathered from various media sources that it was due to the programming its low ratings, despite a loyal fan base. And while yes it has been true I feel as though that with that loyal fan base, and HBO's reputation for breaking the molds of "typical TV" all should have factored more into their decision, especially when there are so many factors to work in Looking's defense.
First of all the show can't be that expensive to make- its pretty much about 5 gay men in modern- day san francisco- I mean the 5 hours they put into this show must cost less than 5 minutes of dragons, or any 5 minutes in Game of Thrones for that matter. Additionally for all the revenue they bring in from Game of Thrones alone- from dvds to merchandise to new subscriptions and more- they should be able to keep several smaller shows afloat. Particularly one that's writing has grown better and has many representations needed in television now. And while the show wasn't perfect it was something strong that was definitely improving and something I felt we hadn't even seen its best moments yet, and it already had some strong ones.
While HBO is allowing for a movie to be made to finish up the character's storylines it still creates the gap from allowing to see characters expand, grow and more on their own rather than what might turn out to be a rushed conclusion and prevents from more expansion to be made to the show to further improve it. In Looking's gap, I hope that there will still be able to be gay-themed dramas to fill its void. I've recently been alerted of some new gay themed dramas from Russell T. Davis like Cucumber and Banana that will hopefully help and create new stories to be told, but I'd also like to see some American networks try to take on these stories like HBO did.
I feel as though what should be brought onto the small screen is the leading gay "anti- hero". The past decade or so a slew of shows (most of which have been very popular) have been lead by an "anti-hero", a character who tiptoes on the moral line of things but who we might ultimately route for, such as Walter White (Breaking Bad) Don Draper (Mad Men) Francis Underwood (House of Cards) Nucky Thompson (Boardwalk Empire), and in that field many minorities have reached the "Anti-hero" level like Patty Hewes (Damages) most of the Lyon Family (Empire) James St. Patrick "Ghost" (Power) Annalise Keating (How to Get Away With Murder) and even Olivia Pope (Scandal).  But yet I find that gay characters are lacking on this front. Some of the better examples I can think of include Omar Little (The Wire) and Cyrus Beene (Scandal) but are at the end, supporting characters so I think the "Leading Gay Anti- Hero" is the next and best place to move forward.

I think also that gay themed showed don't necessarily need money makers like game of thrones to help them, but it mostly depends on their content. In Looking's case I think it did need the money maker like Game of Thrones because of its low ratings and perhaps slower moving storyline. But thats not to say a gay- centered show cannot hold on its own and perhaps be a moneymaker in its own right. I think that what will ultimately make that show, like any show is its writing capability and way its run. But hopefully we will be able to see a slew of gay- themed or centered dramas that are rich and satisfying enough on their own.