Caroline Pitone
Staff Writer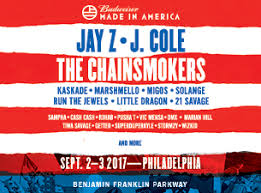 Made in America is a famous music festival that happens every year in Philadelphia. The area in which it happens is near the parkway. In Made In America there are 3 stages that people perform on. There is usually a performance happening every second of Made in America. There are tons of food trucks with many different foods you would never think of trying. There is access to rides and games to pass the time. This is a 2 day festival that provides over 20 performances with tons of different genres like rap, r&b, alternative, etc.
The tickets go on presale, before the lineup is announced for around $150. After the pre sale the tickets can skyrocket to hundreds of dollars. Now looking at the price tag you might think that these are ridiculous prices, but when you see how many performers you get for this price it is well worth it. Now, the lineup is the most important thing. The lineup could go either way, amazing or horrible, you never really know.
"The lineup is disappointing" says Autumn Jerman who goes to Wissahickon High School.
I asked a current student what they thought about Made in America last year."I liked the lineup last year, I didn't think I would like lil ui but it was good!" I then asked her what she thought about the lineup for Made in America of 2017:"I think the lineup this year is bad…the previous years were so good, now its kinda wack."
Made in America gives opportunities to learn and hear new music that you wouldn't usually listen to.