Sean Morris
Staff Writer
We pay plenty of attention to what actors say and do, but what about how they are dressed? Clothing is essential to any character and can sometimes tell us exactly who someone is without them saying any lines. The focus of this article will to be to shine a light on tropes I've found using clothing on male characters that have appeared in the past decade Read on for some sartorial illumination.
Clockwise from top left: Phil Davis as Captain Hatch aka The Devil in "Being Human," Mads Mikkelsen as Dr. Hannibal Lecter in NBC's "Hannibal", Tom Hiddleston as Loki in "The Avengers," Andrew Scott as Jim Moriarty in "Sherlock,"  Mark Sheppard as the demon king Crowley in "Supernatural," Liam Neeson as Ra's al ghul in "Batman Begins"
Devil in designer
A modern trope amongst villains in the media nowadays is to be dressed in a nice suit and tie, often looking and being very expensive. This is meant to be something that distances, even a bit, the villain from the audience, who will likely be more casually dressed. Interestingly, if you look back you'll find it was actually common for stars and heroes of the silver screen to be nicely dressed, with stars like cary grant or clark gable being the dashing suited star. This was likely due to more conservative nature of the past which became changed with modern day emphasis on being relaxed and casual (with more about that in the next trope).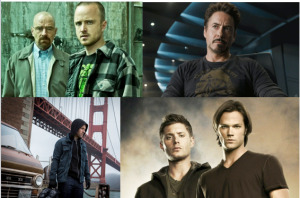 Clockwise from top left: (Bryan Cranston and Aaron Paul as Walter White and Jesse Pinkman in "Breaking Bad," Robert Downey Jr as Tony Stark in "The Avengers" ,Paul Rudd as Scott Lang in "Ant man," (Jensen Ackles and Jared Padalecki) as (Dean and Sam WInchester) in "Supernatural,"
Knight in stained tee shirt
The everyman and underdog that can go to every audience member. Typically poorer to, again, keep him relatable, but those that are wealthy (like Tony Stark above right) aren't as flashy with their wealth as "the devil in designer". While they may not pay attention, nor care about their wardrobe, nor are they required to, they still have a few pieces that leads the audience to know what their characters are like.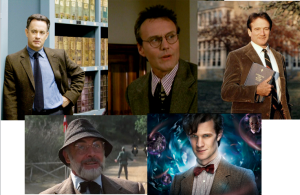 Clockwise from top left: (Tom Hanks) as (Professor Robert Langdon) in "Angels and Demons," (Anthony Head) as (Rupert Giles) in "Buffy the Vampire slayer", (Robin Williams) as (John Keating ) in "Dead Poets society," Sean Connery as Professor Henry Jones Sr.  in "Indiana Jones and the last crusade," Matt Smith as The Doctor in "Doctor Who"
The 'professor' aka tweed is brainy
Browns, tweeds and other rougher fabrics will dictate this style. Sometimes to the point that he could fade in with a library's rough books that he covets, and pair it with a white and a tie. More often than not, he'll have a brown jacket and pair it with a black or dark pair of pants.

Clockwise from top left: Christopher Meloni as Elliot Stabler on "Law & Order: Special Victims Unit,," John Krasinski as Jim Halpert in "The Office", David Boreanaz as Seeley Booth in "Bones,"
Has- to- work- but-wants-to-play
Essentially every cop produced/ office based story ever, in which professionalism is required in dress sense but not enjoyed. Often at a low- earning job and accompanied by a top unbuttoned blue or white shirt, loosened dark tie, rolled up sleeves.

Clockwise from top left: Liev Schreiber as Ray Donavan in "Ray Donavan", Gabriel Manchet as Harvy Spector in "Suits", Kerry Washington as Olivia Pope in "Scandal", John Hamm as Don Draper in "Mad Men"
Black is the new black
Minimalism is the main item in these characters typically expensive wardrobe here, people that value the simple aesthetics of colors like black, white, silver with maybe a hint of blue or brown. While varying on how dressy, most prefer less flashy and again, simple style to having more colors and patterns.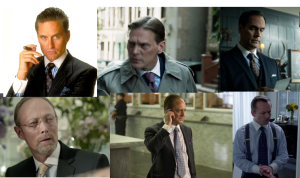 Clockwise from top left: Micheal Douglas as Gordon Gekko in "wall street," Jack Koeing as Ronald Danzer in "gotham" ,Todd Stashwick as Richard Sionis in "Gotham," Lars Mikkelsen as Charles Augustus Magenssum in "sherlock," julian gamble as Feliks Kloza in "the blacklist,"Matthew Bennet as Foster in "the strain,"
Contrast= corrupt
For every wall street swindler or business tycoon, or just an unpleasant rich man they are not far from a contrast collar shirt, typically a light blue with white collar and cuff, and will likely be wearing a black/ dark suit, this can be connected to the movie wall street's corrupt and greedy broker Gordon Gekko, who in his first scene, wears a blue and white contrast shirt.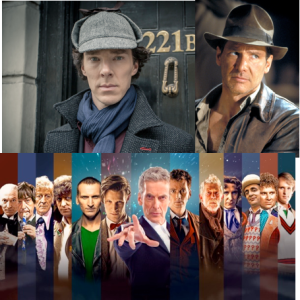 Clockwise from top left: Benedict Cumberbatch as Sherlock Holmes in "Sherlock," Harrison Ford as Indiana Jones in "Raiders of the lost ark), (William Hartnell, Patrick Troughton, Jon Pertwee, Tom baker, christopher eccleston, Matt Smith, Peter Capaldi, David Tennant, John Hurt, Paul Mcgann, Sylvester McCoy, Colin Baker, Peter Davidson,) as (The Doctors) in "Doctor Who"
Iconica
The character that is typically defined by THE wardrobe piece; typically a special coat, hat jacket- typically depending on the character. Outside of other characters devoted colors and patterns palette, these characters are defined by the silhouette, the piece everyone knows, every cosplayer needs, otherwise they are lost without it. In the show Doctor Who in which the main character, The Doctor, changes his personality and appearance, leading to each variation to have his own piece of "iconica" that makes him stand out from the rest.
For more information and examples of tropes look at the awesome tv tropes.com.