by Leah Kelly
Staff Writer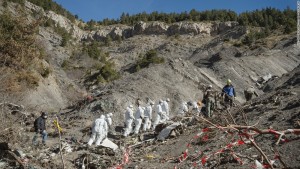 At the end of March, a Germanwings plane crashed into the French Alps, leaving all 150 passengers and crew members dead.
At first, medical personnel, airline employees and police did not know what caused the plane to crash on what seemed to be a relatively clear day. However, as the transmitter box was located and audio from the cockpit recovered, officials were able to draw a few conclusions.
From the information provided, it seems as though one pilot exited the cockpit, leaving co-pilot Andreas Lubitz alone. When the pilot tried to re-enter, Lubitz would not open the door for him and due to safety measures put into place after 9/11, the cockpit can only be opened from the inside.
The audio recovered reveals the pilots initially tapping on the door and asking to be let in. Then, banging on the door louder and demanding to enter. He next tried to break down the door, as the screams of passengers began to fill the background. The only audible information received from inside of the cockpit was Lubitz's slow, steady breaths.
After further investigation into Lubitz's background, officials found that he had a history of mental illnesses such as depression, but had never revealed this to his employer or his company. In the days leading up to the crash, officials found that Lubitz had researched different suicide methods, which had lead him to searches about cockpit doors and the security methods associated with them.
Due to the information that was recovered as well as Lubitz's background, officials deemed that he had purposely crashed the plane as a suicide action, while taking 149 innocent lives as well.
While this event in and of itself is a huge problem and tragedy, it opens the door to examine the larger issue at hand here: Why didn't Lubitz tell his airline about his mental illness?
Was he scared to be honest because of the stigma depression brings, especially in professional adults? How many other adults struggle with mental illnesses, and what kind of problems could that hold in the future?
The Germanwings crash may be an extreme example, but it turns out that 46 million adult Americans, which is 1 in 5, experience a diagnosable mental, behavioral or emotional disorder. Many of them do not communicate their issues to their employers or others at their job because of discrimination.
However, employers are legally not allowed to discriminate against people who are honest about a mental disorder that they struggle with, but there have been multiple cases that show people with mental illness have the highest rates of unemployment of all disabled. Studies also show that half of U.S. employers are more reluctant to hire someone with a past psychiatric history or who are currently undergoing treatments for depression.
Therefore, due to these very real statistics, it is no wonder that the majority of adults hide their mental illnesses from employers so that they can get a job. However, through the case of the Germanwings plane crash it is clear to see that there can be major consequences if issues such as these remain in the dark.
The case with Lubitz should act as a wake up call for all of us: we need to become more comfortable with addressing and accepting these issues. For one thing, it will help prevent tragedies such as the plane crash from happening again.  and so that we can create a happier and healthier community. It will not only help those struggling with mental illnesses, but will also protect those who could be affected by their actions.