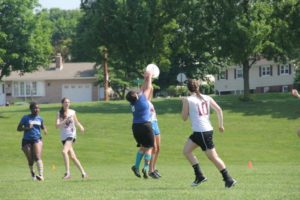 Caroline Pitone
Staff Writer
It's 6AM. Where are you?
Most SLA students are still in bed, but for a select few students each fall, they are already on their way to ultimate frisbee practice.
There are benefits to playing this sport and things that can grind people's gears.
The ultimate frisbee holds practice that are mandatory in the early mornings at 6:50 AM. It's the only time that can be scheduled that allows them to use a field and that make everyone's schedule work.
To get insight from how the players actually feel about this tight schedule, they were asked their opinions.
[2016] Destiny Patton shared her view on going to practice stating,
"I mean…kids mostly go to practice, uh, it can be hard to wake up from your bed in the morning."
Sophomore Bea Gerber shared her view on the quantity of kids that go to practice saying,
"Usually we only have half to three quarters of the team on a good day."
Just like anything else you have wake up for, it can be hard.  But does it affect the rest of your day to wake up at a time like this and run around outside?
"It's a good way to start your day off because you have energy," said Gerber. "But it gets harder during the day because you basically just crash because you're so tired."
It is said over and over again that it is hard for the kids to stay focused throughout at the last periods of the day. Not everything students do in school is able to be done at the best of their ability, i the time that they have to wake up at to make it to practice on time.
"On days where I have everything ready, I have wake up at 5:40," Gerber added. "Waking up that early makes me feel kinda… sad, because I am always tired, but I feel happy about it because, I'm gonna be doing stuff outside with my friends."
"I know I have friends that arrive to class late, and is it fair to mark them late? After frisbee, theyŕe all hot and sweaty, and they want to get changed. Is 30 minutes enough time to get changed in school, and start their day?" science teacher and coach, Ms. Sessa, said about the attendance. " I really do, because I let my students out at 7:45, and it shouldn't take a half an hour to get to school and get changed. You don't have the most amount of time but I definitely give time and am aware when I let them out."
All of the kids have a different view on it.  Some believe that time is so limited when you have to get back to school, sign in, walk upstairs, get changed, and start class, acting like you didn't just work your butt off.
Although frisbee is on a tight schedule, the kids manage to pull through it!