Caroline Pitone
Staff Writer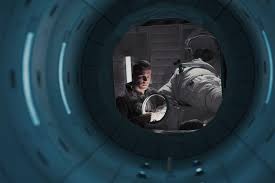 Life is a Science Fiction movie that has recently came out. I went to see this movie on a Sunday. My expectations for this movie weren't too high, because there are already many movies out there that have attempted at a similar concept. Although I do like things that are Science Fiction , I was excited to see what this movie had in store.
The plot of this movie is for the astronauts to capture some samples of the planet mars to test. They soon see evidence of Life that they weren't expecting.  They see that the cell they find, is made of all muscle and all brain, which blows their mind and allows them to classify them as an Ëxtraterrestial.  In Life, we see some well known actors such as, Ryan Reynolds and Jake Gyllehnaal. The are companied along with some great actors; Rebecca Ferguson, Hiroyuki Sanada, Ariyon Bakare, and Olga Dihovichnaya. They all played great roles and were the main characters. Each role was very believable. The actor that played their role the best in my opinion was Ryan Reynolds. He really sold most scenes for me and did nothing but contribute well to every scene with his talent.
The thing that stuck out to me in this movie were the insane graphics. The animations and camera angles were so mind blowing. A movie I could compare these graphics to is the famous Avatar.
After seeing the movie, I have to say I was a bit disappointed, but also was not expecting the best movie in the world. The beginning of the movie was slow but everything soon started to fall into place, after about half way into the movie, it lost all of my attention. As good as the graphics were, and as good as the filming was, the content did not show through. I believe they could have made the movie so much better with the plot they had.