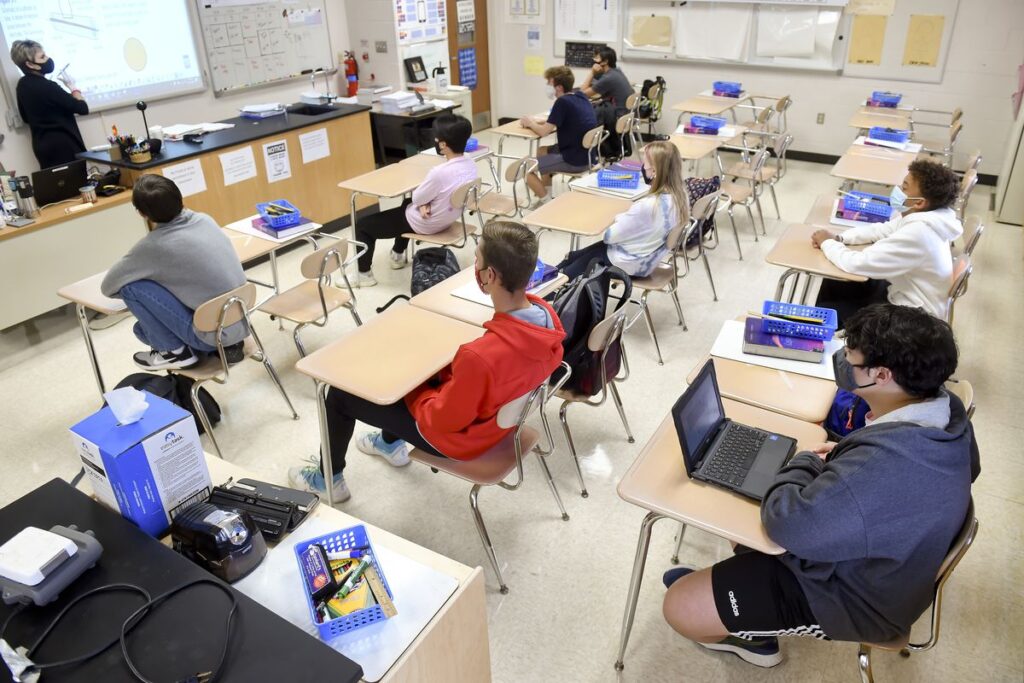 Biran Mahmoud
Staff writer
Last year was online due to covid-19, It was not enjoyable at all because I was very excited for my freshman year but we had to be virtual. It was extremely hard making friends because I could not meet them in person and also it was hard to learn in class. I couldn't learn that much because at home it is overly easy to get distracted by a lot of things, for example, phone, family, food, etc. I would try to not get distracted by getting rid of most distractions but still from now and then I would get distracted by things that would go around me.

In-person is just different, there is nothing like in-person teaching. When it's online the teacher has a hard time explaining to students things they are confused about but in person, it's way easier. Also, I know a lot of people had this problem which was the wifi and sometimes the zoom link wouldn't work or just glitch. Last year was the worst year in education for me personally.

But thankfully now we are back in-person learning and I'm genuinely happy about that. It was overly exciting seeing people who I met on zoom and how different they were in person. The teachers are nice and I have been having a good time at the school. Most of the times kids don't want to come back to school and want summer break to last longer but this year most people I know wanted to come back and they missed school which is a rare thing to see.
My Life During Zoom School — A story by Biran Mahmoud
8 AM My alarm goes off multiple times before wake and then I would get up to brush my teeth then get some breakfast.
9 AM Join my Zoom class even though sometimes it would crash.
Around 11:40 AM I ate lunch usually it would be some fruits, sandwiches, etc.
Around 12:30 PM lunch is over so I have to join zoom class again.
3:00 PM I would log of zoom and close my computer to get a rest from the screen and let my eye rest.
4:00 to 5:00 PM I would work out in that time.
6:00 PM After I finished working out I would take a long warm shower.
7:00 to 8:00 PM do any homework I have but usually, I would have them done throughout the classes so I wouldn't have that much.
8:00 to 10:00 PM watch some Netflix probably usual action movies.
10:00 PM around that time I would go to sleep.
In-person school schedule :
6:15 AM My alarms go off but I stay in bed for 15 more minutes before I actually wake up.
7:15 AM I leave my house and go to the train stashing.
7:45 AM Get inside of school swipe my card and get in the building.
8:15 AM I go to my first class of the day.
Around 11 AM I have lunch and hang out with my friends.
3:15 PM I get dismissed from school.
4 PM I get home and change my clothes.
5 PM I start working out.
7 PM Take a warm shower as usual.
8 PM Do my homework.
9 PM to 10 PM I would watch Netflix or watch youtube.
10:30 PM I would go to sleep.